North Korea parliament holds rare second session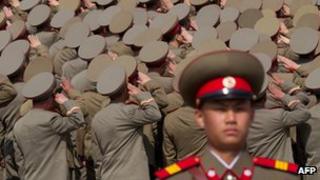 North Korea's parliament has convened for a rare second session amid speculation that it might be introducing economic reforms.
But this session ended after endorsing a law extending compulsory education by a year, KCNA news agency reports, with no mention of any other reforms.
There were reports about plans to allow farmers to keep more of their crops.
The session comes months after Mr Kim reshuffled his top leadership and replaced his army chief.
The assembly usually meets in April and a second annual session is rare.
Aside from changes in the educational system that were "aimed at helping the younger generation", the assembly also made minor changes to parliament's standing committee, KCNA reports.
Food fears
Rumours about possible economic reform in North Korea have been circulating for months, says the BBC's Lucy Williamson in Seoul.
These included unconfirmed reports that economic changes aimed at boosting food production could be introduced. But there has been no official announcement of any such plans.
Farmers in North Korea are currently required to hand over almost all of their production to the state, after keeping a portion for their families.
But reports from both inside and outside North Korea suggested that they would able to keep any surplus after a government quota is met, creating an incentive for higher production.
North Korea was hit by severe famine in the mid-1990s and remains unable to grow enough food to feed its people. Recent flooding is thought to have exacerbated problems in some areas.
Kim Jong-un - who inherited power after the death of his father Kim Jong-il in December 2011 - has been quoted in state media as stressing the importance of improving living standards in the impoverished, economically-backward nation.
His uncle Chang Song-taek - seen by some as the key power behind the young Kim - visited China last month for talks believed to have focused on economic issues and investment.