Japan envoy heads to China as ships sail near islands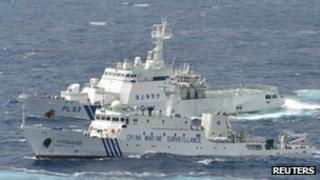 Japan is sending a top diplomat to China for talks, as Chinese ships again entered waters close to islands both sides claim.
Vice-Foreign Minister Chikao Kawai will hold two days of talks aimed at easing tensions, the foreign ministry said.
Japan has lodged a protest over the ships, which sailed near islands called Senkaku in Japan and Diaoyu in China.
Japan controls the islands and accused China of entering its territorial waters.
The row between the two sides has been rumbling for years but escalated in recent weeks after the Japanese government bought three of the East China Sea islands from their private Japanese owner.
On Sunday China cancelled a ceremony scheduled for Thursday to mark 40 years of ties with Japan because of the tensions.
A group of Japanese business leaders who have met top Chinese officials annually since 1975 have also cancelled their visit, due later this month.
'Administrative jurisdiction'
Chinese ships have been in and out of the vicinity of the disputed islands since Japan purchased them on 11 September.
The two Chinese "marine surveillance ships" were making a "rights defence" patrol near the islands, China's State Oceanic Administration was quoted by state-run news agency Xinhua as saying.
It added that the boats were exercising "administrative jurisdiction" over the islands.
There was one other fishery boat in the area, the Japanese coast guard said.
"Of course, if they enter our territorial waters, we will raise objections at the highest level," Japan's top government spokesman Osamu Fujimura said at a press conference.
Dozens of fishing boats from Taiwan - which also claims the islands - were also due to arrive in the area by Tuesday, Taiwan's Central News Agency reported.
On Sunday, Japanese Prime Minister Yoshihiko Noda warned China that the ongoing row could weaken China's economy.
"China should be developing through the various foreign investments it receives," he told the Wall Street Journal newspaper.
"I hope for its level-headed and rational understanding that anything to discourage that is a disservice to itself," he said.
In recent weeks there have been several anti-Japan protests in Chinese cities, with some Japanese businesses forced to halt or scale down operations.
Japanese supermarket operator Aeon and Uniqlo owner Fast Retailing said they had shut several stores in China. Toyota, Canon and Sony also suspended some production.