South Korea presidential runner Park apologises for father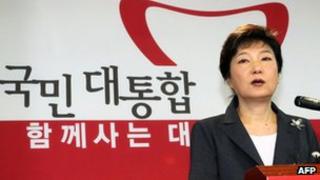 Presidential hopeful Park Geun-hye, the daughter of South Korea's former leader Park Chung-hee, has apologised for human rights violations committed during her father's rule.
Ms Park is the ruling party candidate for presidential elections in December.
Her father seized power in a military coup in 1961 and ruled until he was assassinated by his spy chief in 1979.
He boosted the economy but was accused of ruthlessly crushing dissent, delaying democratic development.
Ms Park, 60, secured the ruling party nomination for the polls last month, marking the first time a woman has been chosen as a presidential candidate by one of South Korea's main political parties.
But she has been battling her father's legacy since the very beginning of her presidential campaign, reports the BBC's Lucy Williamson in Seoul.
He is credited with kick-starting South Korea's economic success, but many younger and liberal voters see his human rights record as a blot on the country's history.
Addressing a news conference, Ms Park said her father had prioritised economic growth and national security issues.
"Behind the stellar growth were sacrifices by workers who suffered under a repressive labour environment," she said.
"Behind the efforts for national security to protect (ourselves) from North Korea were human rights abuses committed by state power."
Offering sincere apologies, she said: "I believe that it is an unchanging value of democracy that ends cannot justify the means in politics."
Ms Park remains ahead in opinion polls for the 19 December election.