No evidence against Pakistan 'blasphemy girl' - police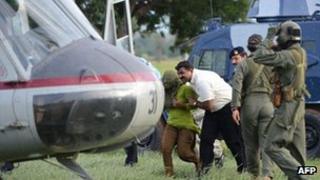 No evidence has been found against a Christian girl accused of blasphemy by burning pages of the Koran, police have told a court in Pakistan.
A police official told the court in the capital Islamabad that there were indications that a cleric at a nearby mosque had tampered with the evidence.
The girl - known as Rimsha - was detained on blasphemy charges in July and has since been granted bail.
Pakistan's blasphemy laws have been criticised for being open to misuse.
Critics of the laws say it is often used to target minorities.
The case of Rimsha - who is said to have learning difficulties - has caused international outrage and may now be dropped.
The judge adjourned the case until 24 September, AFP news agency reports.
After being released from prison on bail earlier this month, Rimsha and her family were taken to an undisclosed location.
Rimsha's parents say that they have received death threats from their Muslim neighbours.
Mobs or vigilantes have killed more than 30 people suspected of blasphemy in the past 20 years, according to Christian leaders in Pakistan.