Karzai sacks Helmand governor Gulab Mangal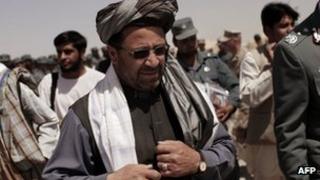 Afghan President Hamid Karzai has sacked the governor of volatile Helmand province as part of a series of sweeping political changes.
Gulab Mangal, considered a close ally of Britain, is one of 10 governors removed or given new jobs.
He ran Helmand during a critical Nato offensive against Taliban insurgents.
Analysts say his sacking is likely to be a political move. Mr Mangal's successor is thought to enjoy closer relations with the presidential palace.
President Karzai has made several attempts to have Mr Mangal removed from his post before, correspondents add.
Overseas trip row
He will be replaced by General Naeem Baloch, who works for the Afghan intelligence service.
The changes come in advance of elections which are due in 2014. Mr Mangal has been tipped as a possible contender for the leadership.
In a statement, the British embassy in Kabul said Mr Mangal, who had been in the post for four years, had "made a real difference to the life of ordinary Afghans in Helmand".
A Pashtun from Paktika province in the south-east, he also had to deal with complex tribal tensions and ongoing problems related to the opium trade - Helmand at that time grew half of the country's opium poppies.
He has also been accused of taking an unauthorised trip to the United States. All governors must have the permission of the president in order to go abroad.
But Mr Mangal denies this and says that both the US embassy in Kabul and the Afghan embassy in Washington can confirm this.
Speaking to the BBC before the formal announcement that he had been sacked, he said he had sought permission from the Independent Department for Local Governance for a holiday in Europe and India.