Burmese editor and publisher charged with libel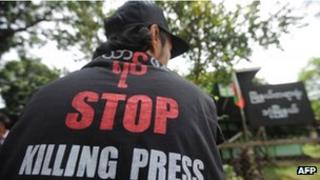 The editor and publisher of an independent journal in Burma have been charged with defamation after publishing a story about alleged corruption in government.
The Burmese mining ministry took action against The Voice Weekly paper after it wrote about accusations of financial irregularities earlier this year.
The reformist government has recently eased restrictions on the media.
But the Burmese press remains among the most heavily censored in the world.
Correspondents say the libel charges are likely to raise fears over media reforms in a country where individuals and organisations can sue publications for defamation, and where for decades the judiciary has acted as a tool of the military leadership.
The Voice Weekly is accused of defaming the mining ministry by stating that the auditor-general's office had discovered misappropriation of funds and fraud.
"The court has accepted the charge," The Voice Weekly Chief Editor Kyaw Min Swe said.
He argued that journalists in Burma needed better protection so that they could write "in the interest of the people".
Information Minister Aung Kyi recently said that libel and censorship laws in Burma would be eased as part of efforts to give the media more freedom.
But The Voice Weekly's lawyer Thein Nyunt - also a lower house MP for the New National Democracy Party - said that the lawsuit against the paper "harms the reform process and destroys the image of the government".
"It should be resolved as fast as it can," he said.
The case will next be heard on 5 October.
Since he came to power in 2011, President Thein Sein has overseen dramatic moves to liberalise Burma.
He has authorised the release of hundreds of political prisoners and allowed opposition leader Aung San Suu Kyi to be elected to parliament.