Pakistan attacks: Bombs strike Quetta and Karachi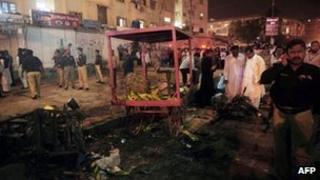 At least 10 people have been killed in two bomb attacks in Pakistan.
Seven people were killed in twin bombings at the busy Hyderi Market in the southern port city of Karachi.
One of the bombs, planted on a motorcycle, went off near a mosque belonging to an Islamic minority sect whom police believe were the target.
Earlier, three people were killed when a bomb ripped through a bus carrying Shia pilgrims near Quetta, in Balochistan province.
That bomb exploded as pilgrims, returning from Iran after visiting Shia holy places, passed though Mastung district, about 15 miles (25km) south of Quetta.
Much of the violence in Balochistan over the last year has been blamed on Sunni militants attacking members of the minority Shia community.
'Huge' explosion
At least 24 people were wounded in the Karachi attacks. The dead were reported to include a 10-year-old girl, a three-month-old baby, a woman and four men.
The two blasts took place in the east of the city, in an area busy with rush-hour traffic.
Mohammad Aslam Khan, head of Karachi counter-terrorism cell, told the BBC that the attack was "clearly targeted" at the Bohra Ismaili Shia community, from which most of the dead and injured came.
"I was in my gift shop when we heard a mild explosion and then a huge one minutes later," shopkeeper Iqbal Rehman told AFP news agency.
"We rushed to the parking lot and saw some vehicles, including motorbikes, destroyed. Several people were dead and injured."