Trinamool Congress quits India coalition over reform plan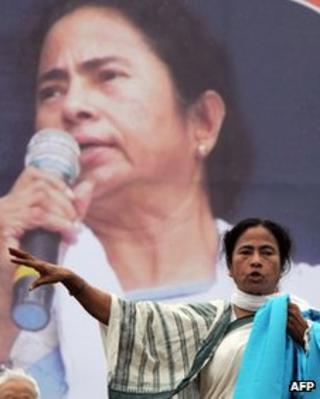 A key regional party has pulled out of India's ruling coalition over its plan to open the retail sector to global supermarket chains and other reforms.
The Trinamool Congress party of West Bengal Chief Minister Mamata Banerjee said that its six ministers would resign from the coalition on Friday.
Ms Banerjee, who is also angry at fuel price rises, said her 19 MPs would not back the coalition in parliament.
Observers say the coalition's majority in parliament is not at immediate risk.
"My party's six ministers have decided to resign. It is time to fight the battle alone," said Ms Banerjee after a meeting of Trinamool leaders in Calcutta, the capital of West Bengal state.
The BBC's Amitabha Bhattasali in the city says that Ms Banerjee's move was made in part because her bedrock support in West Bengal - the lower middle classes - is furious about the possibility of foreign investment taking away badly-needed jobs.
Our correspondent says her supporters also blame the central government for a 14% rise in the price of diesel earlier this month and for similar rises in the price of cooking gas.
The central government still has the support of more than 300 MPs and needs 272 to stay in power. But Ms Banerjee's withdrawal could leave it more vulnerable to the demands of its other allies, most of which are strongly against foreign investment in the retail sector.
Sharp criticism
Earlier on Tuesday Indian Finance Minister P Chidambaram insisted that the government was stable despite the unhappiness among its coalition partners over plans to introduce more measures to boost the economy.
"Our allies in the government and outside will understand and continue their support to the government. We will be able to convince our allies," he said.
Delhi's supermarket plan is aimed at reviving a flagging economy, but small shops fear they will be put out of business.
Last year, the government was forced to suspend a similar plan amid protests. Opposition parties have called for a strike on Thursday in protest over the latest moves to attract more Foreign Direct Investment (FDI).
On Friday, the government also announced it would open airlines to foreign capital, sell minority stakes in four state-run companies and increase the price of diesel - all measures that have attracted sharp criticism from across the political spectrum.
Correspondents say that the implementation of many of the reforms will be left entirely to the states, suggesting that some opposed to the changes could opt out.
Other conditions have also been imposed on groups wanting to invest in India.
Companies will have to invest at least $100m (£67m), open outlets only in towns with a population of more than one million and source at least 30% of produce from India, according to reports.
Many of the larger states like Uttar Pradesh, Madhya Pradesh, West Bengal, Bihar and Orissa, which are ruled by opposition parties and Congress allies who are against organised retail, have refused to entertain proposals by global retailers.
Only nine states, including several smaller ones like Delhi, Indian-administered Kashmir, Assam, Manipur and Uttarakhand, support the move.