Pakistan PM Raja Pervez Ashraf given court extension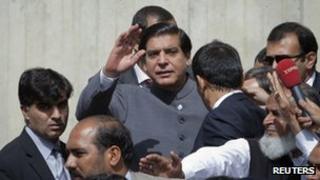 Pakistan's Supreme Court has given the prime minister another week in its battle to have a corruption case reopened against President Zardari.
It ordered the government to write to Swiss authorities and submit a draft by the next hearing on 25 September.
PM Raja Pervez Ashraf said he had told his law minister to withdraw an earlier letter blocking Swiss investigations.
It is still unclear how the new letter will be worded and what its implications for the president will be.
The case dates back to the 1990s when Mr Zardari's wife, the late Benazir Bhutto, was in power. Both said the bribe-taking charges against them were politically motivated.
Until now, the government had steadfastly refused to write to Switzerland, saying Mr Zardari has presidential immunity.
The BBC's M Ilyas Khan, who was in court, says the government appears to have given ground in the long-running dispute.
Mr Ashraf told the court he had instructed Law Minister Farooq Naek to write to the authorities in Switzerland withdrawing a 2007 request by Pakistan's then law minister for investigations into Mr Zardari to be halted.
But the court wants to see the new letter before it is sent - and our correspondent says much will depend on whether government's wording satisfies it.
He says Mr Ashraf has adopted a more conciliatory approach towards the court than his predecessor, Yousuf Raza Gilani, who was disqualified from office for refusing to comply with the court's demands.
The court exempted Mr Ashraf from appearing before it in person until further notice.