US defence secretary downplays Afghan insider attacks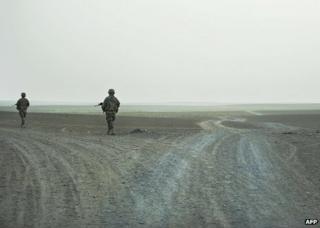 US Defence Secretary Leon Panetta has described attacks by members of the Afghan security forces on coalition troops as the Taliban's "last gasp".
Afghan forces are re-vetting their police officers and soldiers, and have already taken several hundred off active service, the coalition said.
Nato chief Anders Fogh Rasmussen said the coalition's transfer of control to Afghans in 2014 remained on track.
Meanwhile, a new "green on blue" attack was reported on Sunday evening.
An Afghan soldier turned his weapon on a vehicle he believed was being driven by Nato soldiers at Camp Garmser, a shared base in Helmand Province, the Associated Press news agency reports.
He slightly wounded a foreign civilian worker before being disarmed and captured by another Afghan soldier. In detention, he told interrogators he had thought he was targeting troops.
There have been at least 51 deaths in "green on blue" attacks to date this year compared to 35 for the whole of last year.
Other attacks by insurgents have become increasingly effective. In an assault last week on Camp Bastion, the UK's main base in Afghanistan, Taliban fighters destroyed six US Harrier jets and damaged two others, killing two US marines and destroying buildings.
'Very serious'
Speaking on a visit to the Japanese capital Tokyo on Monday, Mr Panetta said the Taliban had failed to regain lost ground.
However, the US military's top officer, Army Gen Martin Dempsey, called the problem of rogue Afghan soldiers and police turning their guns on allied troops "a very serious threat" to the war effort.
He suggested that the Afghans needed to take the matter as seriously as the Americans did.
The coalition's top spokesman in the Afghan capital Kabul, Brig-Gen Gunter Katz, said the Afghan security forces had "begun, according to their own reports, a re-vetting of their own soldiers and policemen".
They had also increased training about cultural differences between themselves and coalition troops, he added.
He described the Taliban attack on Camp Bastion as well-organised and well-equipped.
"We must not forget out of those 15 attackers, we killed 14 and captured one," Brig-Gen Katz added, speaking to AFP news agency.
Asked about the same attack, Nato chief Anders Fogh Rasmussen told BBC Radio 4's World At One programme he did not think it would have an "operational impact" on Nato's mission in Afghanistan.
He insisted the coalition remained on schedule to pass control to the Afghans by the end of 2014.
"It is not an accelerated timeline," he said. "We stick to the timeline we outlined two years ago, that in a gradual process we will hand over lead responsibility for security to Afghan security forces."