Thai report blames both sides for escalating 2010 unrest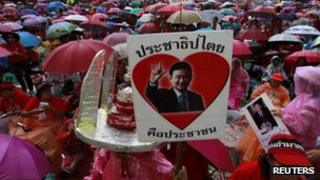 Both Thai security forces and "red-shirt" protesters were to blame for violence that left 92 people dead in 2010, an independent inquiry reports.
The Truth for Reconciliation Commission said both sides had escalated the violence - but did not specify who was responsible for the deaths.
Without powers to subpoena witnesses, it was unable to pinpoint blame for the deaths, a BBC correspondent says.
The violence followed long-running anti-government protests.
The red shirts - many of whom support exiled Prime Minister Thaksin Shinawatra - occupied key parts of Bangkok in 2010, demanding the government of then Prime Minister Abhisit Vejjajiva step down.
The protests ended after six weeks when troops moved in.
Human rights groups have blamed both sides, but highlighted the army's excessive use of live gunfire as the principle cause of death.
They have also accused members of the protest movement of using armed force that led to the deaths of some soldiers.
Although the 275-page report apportions blame on both sides, it is unlikely to satisfy either, says the BBC's Jonathan Head in Bangkok.
Thailand's law enforcement agencies have made little progress - so far only one death has been explained by a judicial inquest, that of a taxi driver killed by the military, our correspondent says.
Mr Thaksin was toppled by a military coup in September 2006 following the annulment of a general election by the courts, and months of street demonstrations against him by "yellow-shirt" protesters, a loose grouping which included royalists, ultra-nationalists and the urban middle class.
But in both general elections since the coup, Mr Thaksin's allies have been elected.
Another court ruling disqualified two pro-Thaksin governments in 2008, which triggered the "red-shirt" protests that culminated in the violence of 2010.
Yingluck Shinawatra, the current prime minister who was elected last year, is Mr Thaksin's sister.