Afghanistan bus collision 'kills 50' in Ghazni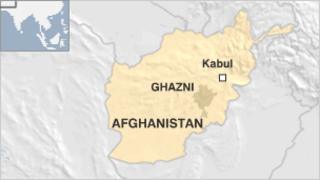 At least 50 people have been killed and six injured after a bus and a fuel tanker collided in the eastern Afghan province of Ghazni, officials say.
Both vehicles were engulfed in flames after the collision and reports say many victims were too badly burned to be identified.
The crash took place in the Abband district on the Kabul-Kandahar highway.
Road accidents in Afghanistan are common, often blamed on bad roads, unsafe vehicles and poor driving.
Roadside mines are also found along a number of Afghan roads but in this instance, police have ruled out the possibility that either vehicle hit a mine.
One police official said that both vehicles were driving at a very high speed.
"Both hit each other like a bullet. I was working in my farm, and we saw the bus burn in front of our eyes," eyewitness Haji Daghu Jan told the BBC.
"Drivers on this road often kill people," he said.
Police officials say they are still working to recover the bodies from the wreckage of the crash.
"As soon as the two vehicles collided, the bus caught fire, most of those killed were burned," Gen Zarawar Zahid, the provincial police chief, told the BBC's Bilal Sarwary in Kabul.
It is not clear who the fuel tanker belongs to. Ghazni lies on the main Afghan supply route for Nato goods.