Karachi fire: Police seek owners as relatives bury dead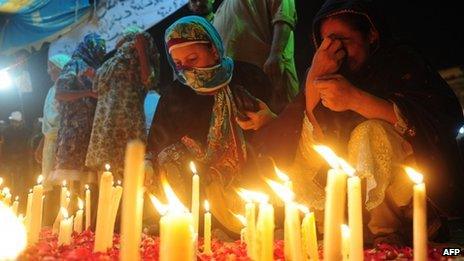 Families in the Pakistani city of Karachi have buried their dead after a fire engulfed a garment factory with workers trapped inside, killing at least 264 people.
Murder charges have been registered against the factory's bosses and government officials, police said.
Police are looking for the factory owners, who have not been seen since the blaze.
It was one of the worst fires in Pakistan's recent history.
Government officials are also being investigated for failing to enforce fire safety regulations at the Ali Enterprises factory.
"We have registered a murder case against the owners of the factory and several government officials for showing utter negligence to provide adequate security to the factory workers," local police chief Mohammad Nawaz Gondal told the AFP news agency.
Earlier, relatives waiting outside the factory in the north-western Baldia town area of Karachi chanted slogans against the government.
They said the tragedy could have been prevented if the authorities had enforced the relevant safeguards.
Many other relatives lined up at hospitals to give blood samples to help identify almost 100 charred bodies.
The BBC's Syed Shoaib Hasan in Karachi says emergency workers have now cleared the factory of any remaining fire victims and police officials are conducting an inspection.
Funerals were expected to take place in Karachi and in other areas of Pakistan throughout the day. A number of the workers came from rural Sindh and Punjab provinces.
The blaze began on Tuesday and raged for more than 15 hours.
Witnesses in Karachi described how hundreds were trapped inside as the flames consumed the factory - the building had metal grilles on the windows and no fire exits.
Workers had little time or opportunity to escape from the four-storey building's single exit - many could do so only by jumping from those windows they could get out of. Dozens suffered broken bones or worse.
Those trapped inside the building frantically rang their friends and relatives as flames engulfed it, reports say.
Firefighters on crane lifts battled to rescue other trapped survivors suffering from burns and smoke inhalation, but the death toll rose steadily over the day.
The fire began hours after a blaze at a Lahore shoe factory killed 25 people, highlighting Pakistan's lax safety regulations.
Police have announced investigations into both fires. Reports say they may have been caused by electrical faults.
In the Karachi blaze, a faulty electrical switch is thought to have caused a boiler to explode. The flames set fire to chemicals stored in the building, officials believe.
Garment factories and other plants in Pakistan require their own power sources because of an increasingly erratic national grid.
The garments industry is critical to Pakistan's frail economy - according to central bank data, it provided 7.4% of Pakistan's GDP in 2011 and employed 38% of the manufacturing sector workforce, accounting for 55.6% of total exports.