Vietnam prime minister targets anti-government blogs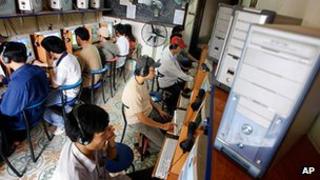 Vietnam's prime minister has hit out at three blogs critical of the government, ordering that those behind them be ''seriously punished''.
A statement on a government website said PM Nguyen Tan Dung had ordered police to investigate and take action against those responsible.
He has also ordered civil servants not to read the blogs, which he said, had "agitated against... the state".
Media in Vietnam is state-owned and operates under strict regulations.
Three blogs - including the popular Dan Lam Bao (People Doing Journalism) and Quan Lam Bao (Officials Doing Journalism) - were named in the government statement.
"This is a wicked plot of the hostile forces,'' the statement said, adding that the blogs had "slandered the country's leadership, fabricated and distorted information, agitated against the party and the state, and caused suspicion and mistrust in society".
'Secret world'
Two of the blogs said they would keep publishing, with one saying its bloggers were prepared to be jailed.
The government, which does not allow freedom of expression, has been under pressure from a number of blogs and bloggers over corruption cases or human rights issues.
"Dan Lam Bao and its companions are prepared to be repressed and imprisoned rather than leading the life of a dumb dog that dares not to bark, subservient to those who abuse their power," one of the blogs being targeted said in response to the statement.
Quan Lam Bao began publishing only in May but quickly became one of the most popular blogs in Vietnam.
It mostly publishes unverified sensational news about the power struggle at the top of the leadership and details of personal lives of Communist Party leaders, says the BBC's Nga Pham.
In an atmosphere lacking information and transparency, it offers a glimpse - albeit unsourced in many cases - into the secret world of these leaders, our correspondent says.
The blog also clearly targets the prime minister and this may be the reason why he is targeting the blog, she adds.
Human Rights Watch has accused the Vietnamese government of jailing dozens of bloggers and peaceful activists.
In July, the mother of a prominent blogger died after setting herself on fire to protest against the detention of her daughter, Ta Phong Tan, who is among a group of bloggers facing charges of anti-state propaganda.