Australia rallies support for super-trawler vote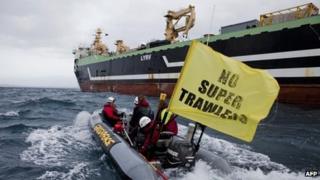 Australia's government is working to rally support for a bill preventing a super-trawler fishing in its waters, after the opposition spoke out against the move.
The bill, introduced on Tuesday, aims to stop the vessel from fishing for two years while more research is conducted.
Fishermen and environmental groups fear the Dutch-owned trawler will over-fish.
But Australia's fishing authority has dismissed these fears, saying the catch will be managed.
Its ''robust management of fisheries will ensure that any fishing is sustainable'', the Australian Fisheries Management Authority (AFMA) said.
Environment Minister Tony Burke introduced the legislation in parliament on Tuesday and is now looking to independent MPs to support the vote, after the opposition called the law a ''Trojan horse''.
"It allows the minister to ban any fishing in Australia of any kind - recreational fishing, charter fishing, commercial fishing - on the basis of the minister deciding it has a 'social impact'," said opposition lawmaker Christopher Pyne.
'No evidence'
The 9,500-tonne, 143m Abel Tasman super-trawler - formerly named the FV Margiris - is currently docked at Port Lincoln in South Australia.
Activists and local fishermen have been protesting for months, citing concerns over over-fishing, by-fishing - whereby other marine life gets swept up in the net - and wider impact on the environment.
Given the ''uncertainties'' over the consequences for species such as dolphins and seabirds, Mr Burke said, he would take a cautious stand.
"If we get this wrong, there are risks to the environment, to commercial operators and to everyone who loves fishing and they are risks I am not prepared to take," he added.
Seafish Tasmania, the company that brought the boat to Australia, had planned to fish in waters from Western Australia to southern Queensland. It had obtained approval from AFMA for a quota of two types of fish.
The independent fishing authority has tried to allay fears, saying that it enforces stringent catch limits and strict regulations to ensure sustainability.
''AFMA has found no evidence that larger boats pose a higher risk to either commercial species or broader marine ecosystem when total catches are limited and the limits are enforced,'' said a statement on the AFMA website.
Despite this those opposed to the controversial trawler, which would be the biggest boat to fish in Australian waters, remain unconvinced and want more research done.
Activist groups want the Australian government to impose a ban on all super-trawlers.
"These ships literally vacuum up entire schools of fish. You could fly a jumbo jet through the opening of its net with room to spare," said Greenpeace Australia Pacific oceans campaigner Nathaniel Pelle in a statement.
However, AFMA maintains that the net used by the Abel Tasman is ''not at all the biggest net in the current Australian fishing fleet''.
It also added that the reason for the vessel's vast size is that it has a factory and freezer on board - two thirds of the trawler are for processing and storage.