Q&A: Bin Laden raid doctor Shakil Afridi speaks out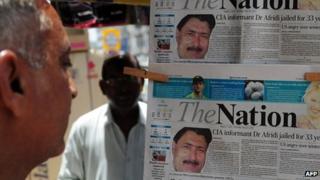 The Pakistani doctor involved in the US search for Osama Bin Laden has been quoted as saying he was unaware of his role in the al-Qaeda chief's death.
Shakil Afridi reportedly told Fox News from jail in Peshawar that after the 2011 killing he had been kidnapped and tortured by Pakistani intelligence.
He also reportedly said the ISI agency regarded the US as its worst enemy.
The BBC's M Ilyas Khan in Islamabad answers questions in relation to the latest developments.
How much did Dr Afridi know?
Initial reports following his arrest in May 2011 said he used a fake Hepatitis-C vaccination campaign to guide the Americans to Osama Bin Laden's compound in Abbottabad.
Many experts subsequently cast doubts on whether he could have been privy to specific details of the operation or the exact identity and location of the target.
This view was possibly shared by the ISI interrogators themselves, as suggested by some ex-military experts sourcing their information to the intelligence agency.
Dr Afridi himself admits to this in his interview with Fox News when he said: "I didn't know about a specific target apart from the work I was given to do… the house was famous for its name, Waziristan House.
"I was aware that some terrorists were residing in that compound, but I didn't know who. I was shocked. I didn't believe I was associated in [Bin Laden's] killing."
Why did he not leave Pakistan when he had the chance?
Days after his conviction, Dr Afridi's brother, Jameel Afridi, told the media Dr Afridi was "a patriot, not a traitor", and that the vaccination campaign he conducted had been authorised by top health department officials of Khyber Pakhtunkhwa province.
He also said that had Dr Afridi wanted to leave the country, he could have done so after Bin Laden's killing as he possessed a valid US visa.
On the face of it, it appears his lack of knowledge about the actual CIA operation convinced him he had not done anything wrong, more so as Bin Laden had been as much a wanted person in Pakistan as he had been in the US.
But in his Fox News interview, he pointed out another reason why he did not leave the country.
He was apparently asked by the Americans to cross into Afghanistan but he was reluctant to do so because of the risk of kidnapping by a militant group.
Local officials say he was kidnapped some time in 2009-10 by the Lashkar-e-Islam militant group acting on complaints from some Khyber residents whose relative had died while being treated at a clinic he ran in the region.
He had to pay a fine to the group to win his freedom. And because he did not view himself as being involved in the Bin Laden raid, he did not believe it was necessary to escape.
How was the Fox interview conducted?
Dominic Di-Natale of Fox News who conducted the interview said in a tweet that he carried it out during a 40-minute phone call.
But who smuggled the phone to Dr Afridi inside Peshawar jail?
Dr Afridi is being held in solitary confinement in a prison cell which officials say is reasonably comfortable and spacious.
He is a high-profile prisoner so the level of security around him is also pretty high.
Only close family are allowed to meet him, and then only occasionally, and he is brought to a separate chamber for such meetings.
Since his conviction in late May, he has had visitors only three times - the last one being on 29 August when his brother, two sisters and a lawyer cousin met him.
Did one of his family members gave him the phone? This may or may not be the case.
Mobile phones are not uncommon in Pakistani jails, and corrupt jail guards are not hard to find.
What might be Dr Afridi's motivation for giving the interview?
Dr Afridi chose an American right-wing media outlet to vent his spleen over an organisation - the ISI - that holds his destiny in its hands and can make life many times worse for him than it already is.
The only explanation, according to those who have been keeping a close watch on his case in Peshawar, is desperation.
The fact that Dr Afridi was given a preposterous 33 years in jail for "collaborating" with a militant group which actually kidnapped him and extorted money from him is frustrating enough in its own right.
In addition, he has allegedly been held in illegal confinement by the ISI for a year and has now been in solitary confinement for nearly four months.
His appeal against conviction is going nowhere as there have not been any hearings yet.
The interview appears to be a do-or-die gamble to address the American audience, his only hope for salvation.
What is his mental state likely to be? Can we trust everything he says?
Dr Afridi is an Afridi tribesman who has been a part of the bureaucracy in Khyber Pakhtunkhwa province. He is likely to be fully aware of the ISI's tactics in the Pakistani tribal areas, which are mostly geared to achieve Pakistani aims in neighbouring Afghanistan.
Specific examples of the individuals Dr Afridi met in the ISI detention centre in Islamabad and which he has quoted in his interview with Fox may not be completely unreal or totally out of context.
His lawyers vouch for his sanity and insist he has never let a loose word drop in their presence.
At the same time, certain colleagues who have known him from several years describe him as "ambitious" and "self-centred".
His move to give such a controversial interview could then be a deliberate gamble, which may well compromise his personal safety. But it also raises awareness of his circumstances in the US. He may well consider that a price worth paying.