Robber swallowed fake diamond, Sri Lanka police say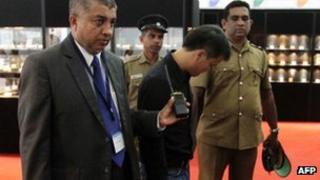 A Chinese man accused of swallowing a diamond worth $13,000 (£8,200) actually ingested a fake gem in what may have been a ruse to help the real thief escape, police in Sri Lanka say.
Police say the gem that he passed after he was given laxatives was a fake.
They believe the real diamond was stolen by an accomplice who fled the scene in the capital, Colombo.
But the owner believes the real gem was taken earlier, saying the man only ate the fake in panic once police came.
Police say they are trying to track down the accomplice who fled the scene.
"We suspect that as habitual offenders, this group were in the habit of swapping real stones for fake ones," police spokesman Ajith Rohana told the BBC's Charles Haviland in Colombo.
He said that the man who swallowed the stone had another six gems in this pocket, all of which were proved to be fakes.
Police say he could have swallowed the stone in an attempt to distract the diamond's owner, Suresh de Silva, while his accomplice stole the real gem.
Mr de Silva told the BBC that the Chinese men had visited the stall twice and he believed the diamond theft occurred during the first visit and not the second one, when the man swallowed the stone.
He insisted the man was trying to swap a fake stone for the real one and only swallowed the stone when he panicked after Mr de Silva apprehended him and alerted police.
"When the police arrived he had no option but to swallow it," Mr de Silva said.
Sri Lanka has a thriving gem industry but it does not mine diamonds. It is well known for its blue sapphires.