Three dead in Bagram base attack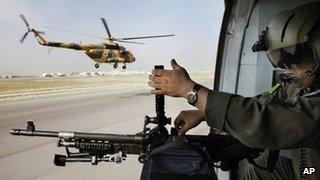 Three Afghans have been killed in an attack on the Bagram air base in Afghanistan, officials have said.
Five missiles were fired into the US base, causing a fire which destroyed a Chinook helicopter as it was preparing to take off, an International Security Assistance Force (Isaf) spokesman said.
The overnight attack also wounded a number of Isaf personnel.
It comes a day after the US military handed a nearby controversial prison over to the Afghan authorities.
The jail houses more than 3,000 Taliban fighters and terrorism suspects and has been at the centre of a number of prisoner abuse allegations.
The Chinook was hit by "indirect fire" as it was preparing for an operation, a Nato official told AFP news agency.
The three dead were intelligence personnel, a spokeswoman for Parwan province, where the base is located, told the agency.
Two senior security officials were among the wounded, she added.
The Taliban say they launched the assault on Bagram - the largest base for American forces in the country.
It has often been the target of attacks.
In March, a suicide bomber blew himself up at the entrance, a month after copies of the Koran were burned there, sparking outrage and protests across Afghanistan.
Two civilians were killed and four injured in that attack.
On 11 September last year, rockets were fired at the base as the US embassy in Kabul marked the 10th anniversary of the 9/11 attacks.