India bus crash in Himachal Pradesh kills at least 28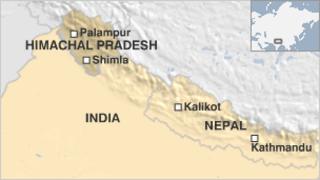 At least 28 people were killed after a bus plunged off a highway in the northern Indian state of Himachal Pradesh.
The bus fell into a gorge in the Kangra valley, some 250km (155 miles) from the state capital, Shimla.
A similar crash has taken place in neighbouring Nepal, leaving at least 27 people dead.
Road accidents in both countries are common, often due to poor driving or badly maintained roads and vehicles.
The state-owned bus in Himachal Pradesh was carrying 45 passengers from Palampur to Ashapuri when the incident happened late on Monday.
One survivor said the driver lost control of the vehicle and it reversed into the gorge.
India has the world's highest number of road deaths, with more than 110,000 people killed every year in accidents.
Meanwhile, a bus in Nepal fell some 500m on to a riverbank after coming off the road in the far-west mountainous district of Kalikot just before dawn, local media reported.
The incident, which took place some 400km (250 miles) northwest of the capital, Kathmandu, comes two days after a similar crash in Gulmi district, in which 13 people were killed.