Flooding in Pakistan kills at least 78 people in three days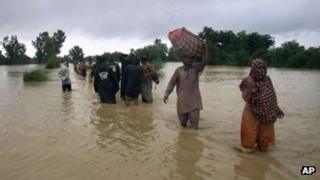 At least 78 people have died in floods in in Pakistan in the last three days, officials say.
They say that Khyber Pakhtunkhwa province and Pakistani-administered Kashmir are the worst hit regions, accounting for more than 60 deaths.
Hundreds of tents have been sent to these areas as part of relief efforts.
Officials say many people continue to live in low-lying areas prone to flash floods, despite warnings to relocate. More rain is due in the next two days.
The heavy monsoon rain - which began falling last week - had destroyed more than 1,600 houses while damaging a further 5,000, National Disaster Management Authority (NDMA) spokesman Irshad Bhatti said.
He said that most of the casualties were caused by houses collapsing and people being caught in rapidly rising water.
Police told the AFP news agency that an Afghan refugee family of eight - including two women and six children - were all killed in the north-western district of Swabi when the roof of their mud house collapsed on Sunday night.
Officials say that a state of emergency has been declared in the Dera Ghazi Khan and Rajanpur districts of Punjab province, where troops have joined rescue work.
Weather forecasters say that most of the rain expected over the next two days will fall in Pakistani-administered Kashmir, Sindh and Balochistan provinces.
Questions
The BBC's Aleem Maqbool in Islamabad says that while the number of people affected is far lower than the previous two years, in Punjab canals have burst their banks and low-lying areas of Sindh province are under water. In Balochistan, communication links have been severed.
In November 2011 at least five million people were affected by flooding in Sindh, which also killed livestock and destroyed crops, homes and infrastructure as the country struggled to recover from record downpours in 2010.
About eight million people in total were affected in 2011 and an estimated 20 million the year before. There was also large scale structural damage.
Our correspondent says that questions have already been asked about what the disaster management authorities have done in the last 12 months to prevent flooding.
Until recently, areas in southern Pakistan were still under water from last year's monsoon rains, with locals complaining that even the basic work of clearing debris from drainage channels had not been done.