Afghan pundits question Bagram prison deal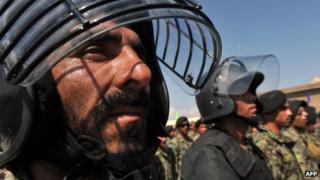 Media commentators in Afghanistan have questioned whether the Kabul government will be able to maintain security at Bagram prison, now that the United States has handed over control.
A particular concern is the US insistence on keeping responsibility for some foreign detainees in the jail.
Some pundits see this as a sensible measure and deplore government objections to it, while others worry that it undermines Afghan sovereignty.
Former diplomat Ahmad Sayedi on private Tolo TV's Farakhbar programme
"If al-Qaeda agents, Arabs, Chechens and professional terrorists and killers working for Pakistan are handed over to the Afghan government, I would say that the prisoners could escape as seen in the past, which will cast doubt on the prestige of the government."
Sattar Sahdat MP on pro-government Kabul News TV's Zhawarleed programme
"Vague words have been used in the agreement between Kabul and the US forces on the transfer of Bagram detention centre. They say that the US has no right at all to control the prison, but there are also some words in the agreement which mean that the USA can delay the handover."
Editorial in independent Hasht-e Sobh newspaper
"The government has not had a good track record in maintaining inmates and prisons in recent years... The government has repeatedly called the Taliban their brothers and Taliban fighters detained on suicide-attack charges have been repeatedly released without trial... but this does not mean that a lenient policy in prosecuting the inmates of Bagram jail will guarantee that dangerous inmates will be freed by the government and then join insurgent groups."
Editorial in the government paper Hewad
"This is another major step towards the realisation of national sovereignty and another success for the Afghan government... Bagram is one of the largest and most notorious jails run by the US in Afghanistan... As in Guantanamo and Abu Ghraib, inmates have been tortured in Bagram."
Editorial in Sarnawesht private daily
"America, contrary to all its slogans and pledges, has violated Afghanistan's national sovereignty and territorial integrity, and wants to keep Afghanistan an occupied country... The disagreement over Bagram jail is a disagreement over the national sovereignty of Afghanistan... The Afghan people are supporting President Karzai in this regard and are ready to make sacrifices to defend the national sovereignty."
BBC Monitoringselects and translates news from radio, television, press, news agencies and the internet from 150 countries in more than 70 languages. It is based in Caversham, UK, and has several bureaux abroad. For more reports from BBC Monitoring, click here