Australia to send asylum seekers to Nauru this week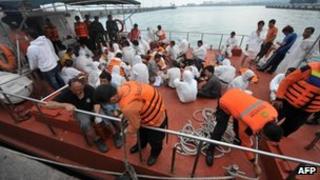 Australia will send the first group of asylum seekers to an offshore processing centre in Nauru this week, Immigration Minister Chris Bowen says.
Mr Bowen has formally signed a document authorising the move and will table it in parliament later in the day.
Over the weekend, Prime Minister Julia Gillard also sealed a deal with Papua New Guinea's government to conduct offshore processing on Manus Island.
Lawmakers approved offshore processing camps for asylum seekers last month.
The moves, whereby asylum seekers arriving by boat are relocated to offshore centres while their claims are assessed, are aimed at deterring people from making the dangerous journey to Australia by boat.
In recent months the number of arrivals has increased and several boats have either sunk or got into trouble.
In a statement, Mr Bowen said he had "signed the legislative instrument designating the Republic of Nauru as a regional processing country".
The Australian and Nauru governments had been working together for ''a transfer to occur in the latter part of this week", he told a press conference in Canberra.
He did not specify the numbers or specific group of asylum seekers who would be sent to the Pacific island, but said that anyone who had arrived after 13 August could be transferred.
Reports in Australian media said about 2,000 asylum seekers had reached Australia since the country approved plans to re-open offshore processing centres in Nauru and PNG.
'No advantage'
Ms Gillard, who signed an agreement with PNG Prime Minister Peter O'Neill over the weekend, said the principle of offshore processing was to ensure ''no advantage'' for asylum seekers who make the dangerous boat journeys.
''Even if you are a genuine refugee, you would not get a resettlement opportunity earlier than you would have got it if you hadn't moved by boat,'' she told ABC News.
''The aim here is so people don't get an advantage if they get on a boat, pay a people-smuggler and risk their lives at sea."
Asylum seekers often target Christmas Island, off Australia's northwest coast, to get to the country. They travel from Indonesia in boats that are usually overloaded and poorly maintained.
Two weeks ago, a boat believed to have been carrying 150 asylum seekers, mostly Afghans, sank off Indonesia's Java island. The 55 survivors rescued were taken to Merak, a port in western Indonesia.
The re-opening of offshore processing centres represents a U-turn for the ruling Labor Party. But it followed recommendations in a report from an independent expert panel set up to break parliamentary deadlock over the issue.
Australia will also increase its intake of refugees to 20,000 a year, from the current 13,750.