Searching for missing Pakistani soldiers in Indian jails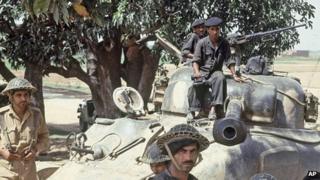 Four Pakistani soldiers who went missing during the 1965 India-Pakistan war and were long presumed killed may in fact be alive and languishing in Indian jails.
But which jail exactly? The Indian Supreme Court will be attempting to answer that question in a hearing fixed for Wednesday.
Meanwhile, their families in the picturesque Tai village in Pakistani-administered Kashmir, move between hope and despair as they mull various outcomes of this search.
"If only my father would come just once into my life. I never had a brother, my mother died years ago and so did my father's brother. Now everybody says my father is alive. If I see him once, I can die in peace," says Safina.
Tragic consequences
She was just two months old when her father, Alam Sher, disappeared while fighting Indian troops in the Poonch sector of the boundary between India and Pakistan. She is now married with children.
The case highlights the tragic consequences of Indian-Pakistani rivalry over the disputed region of Kashmir and comes at a time when there are signs of improvement in relations.
The two countries first went to war over Kashmir in 1948 - months after independence - and ended up dividing the region between them along a ceasefire line that still serves as a working boundary.
Tai village is located close to this boundary, along Poonch river in the Kotli district of Pakistani-administered Kashmir.
Indian and Pakistani military posts on the hills overlooking the village are a constant reminder of the battles the two sides fought in 1965.
At least seven residents of the village were enlisted in the army and were deployed on hills close to the village. All went missing on 6 September 1965 - the first day of the war.
For 40 years after that, the military authorities and the families of the missing soldiers thought they had been killed.
But in 2006 a former Kashmiri militant from nearby Sarhot village - who had been released from jail in Indian Kashmir - brought home tidings of hope.
"When Ayub Khokar - the militant affiliated with the Jammu and Kashmir Liberation Front - returned to the village in 2006, he came to meet us and said he had met my father in a jail in Jammu," says Mohammad Bashir.
Whereabouts unknown
Mr Bashir's father, Barkat Hussain, disappeared from the heights opposite their village. He says he was only three years old at the time.
Like Safina, he too is married with children.
Mr Khokar confirmed Mr Bashir's version of events in an interview with the BBC.
"I met Barkat Hussain and another Pakistani soldier, Sakhi Mohammad, in Jammu jail in 1998," he says.
"They told me they were natives of Tai village. I recognised them. They also said that four more soldiers were captured with them. Two of them were held in jails at Kathua and Hiranagar, while the whereabouts of the remaining two were not known."
Late in 2011, Jammu lawyer and politician Bhim Singh filed a writ in court on behalf of the family of the four missing soldiers, namely Barkat Hussain, Alam Sher, Sakhi Mohammad and Bagga Khan.
The following April, the deputy inspector-general of jails in the Indian state of Jammu and Kashmir "informed the Supreme Court in a communication that all of them except Bagga Khan were arrested on 6 September 1965 and were kept at Jammu jail", Bhim Singh said.
"In addition, the inspector general also informed the court that another Pakistani soldier, Abdul Aziz, was also arrested some time in 1967 and was jailed in Jammu," he says.
Bated breath
But a subsequent communication from the Indian home ministry in July 2012 informed the court that none of the four prisoners was or ever had been lodged in Kashmiri jails.
The Supreme Court has now advised the government to clarify the two contradictory communications.
Meanwhile, families of the missing soldiers in Tai village wait with bated breath.
Fateh Begum is one of them, and needs more optimism than others to keep her hope alive.
No Indian official has so far acknowledged the presence of her husband, Bagga Khan.
Back in September 1965, she was in her late teens - with a young son - when her husband went to war.
Two months later, she received a letter from the army saying he had been killed in action.
"They say Bagga Khan is not in India, but I pray to God to please make them search harder for him," she says.
"If others are alive, he should also be. No-one ever saw him die."