Top Pakistan policeman is shot dead in Quetta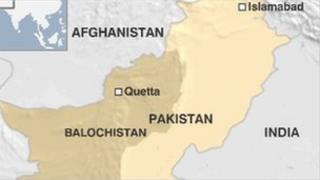 A top police officer investigating sectarian killings in the Pakistani province of Balochistan has been shot dead by gunmen on motorbikes in the provincial capital, Quetta, police say.
The car of Superintedent Jamil Kakar was sprayed with bullets as he was leaving his home. His bodyguard was injured.
Sectarian violence has killed hundreds of Pakistanis in recent years.
Most attacks are either in Balochistan or in the country's northern areas.
Much of the violence in Balochistan over the last year have been blamed on Sunni militants attacking members on the minority Shia community, especially the million-strong ethnic Hazara community - who are mainly Shia migrants from Afghanistan.
The volatile province is one of Pakistan's most strategically important areas - sharing borders with Afghanistan and Iran.
While Balochistan has often been hit by sectarian violence, ethnic Baloch separatists are at the same time demanding more autonomy and a greater share of its natural resources.
The province is also used by Taliban militants as a sanctuary from fighting in Afghanistan.
Police say that Mr Kakar was killed instantly in Friday's attack and that they are investigating the motives behind it.
Officials said the policeman was investigating numerous sectarian attacks and had recently received death threats.
Mr Kakar was on his way to a court hearing at the time of the attack.