Huge Tajikistan market fire provokes angry protest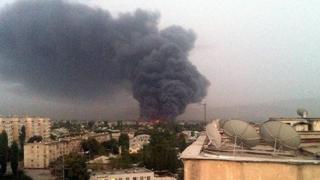 Hundreds of people have taken to the streets in the Tajik capital Dushanbe after a huge fire broke out on Wednesday night in the Karvon market in the south of the city.
The protesters are angry over what they say is the failure of the government to protect their stalls from the blaze, which killed at least one man.
But the interior ministry says that firefighters were not alerted in time.
Many protesters say that they lost everything in the blaze.
They gathered near the country's parliament but the security forces restricted their movements.
The government has announced an inquiry into the outbreak of the fire, which it says spread over a 5,000 sq m (54,000 sq ft) area.
It says that firefighters were only alerted to the blaze 40 minutes after it broke out. It says that the fire was made worse by strong winds "and lots of combustible materials in the market place".
About 30 firefighting trucks and 16 water-carrying trucks were used to fight the inferno, the interior ministry said.
The marching protesters were escorted by police vehicles as they tried to get into the city centre.
Some reporters trying to cover the protest say they were beaten up and arrested by police.