Whaling lingers on in South Korean town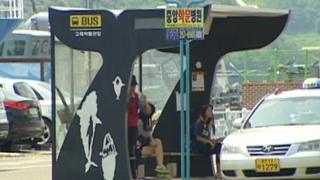 The view from Jangsengpo harbour is of two different Koreas.
On the horizon, the modern outline of heavy industry shimmers in the summer light. But in the town's sleepy harbour, old men and women spread small, white fish to dry in the sun.
Behind them is a row of small, simple restaurants and a convenience store where fishing nets sit side by side with thin, rough notebooks from an earlier age.
Thirty years ago, this was where the whales came in.
Jangsengpo and neighbouring villages were the heartland of Korea's whaling industry, a centuries-old tradition that was outlawed in 1986 by the International Whaling Commission.
With a major four-yearly conservation conference taking place in South Korea this month, there is fresh focus on the country's commitment to that international moratorium.
'Why stop us?'
In Jangsengpo, at least, the past has a way of clinging on.
There are whale murals on the sea wall, a bus stop shaped like a whale's tail and even a whaling museum. And along the street opposite the harbour there is a long line of whale-meat restaurants, their speciality prominently advertised on the awning outside.
Park Kae-yung runs one of the restaurants overlooking the harbour. A forceful, wizened woman of 87, she hauls large chunks of whale meat out of steaming vats and hacks them into lunch on the concrete floor.
"This bit's from the neck and that's from the backbone," she said. "In the old days, whale meat was a lot cheaper. Now the price has jumped a thousand times. That's how rare it's become."
Next to her, co-manager Gwak Sang-jo waves his meat hook as he takes up the conversation.
"We caught whales here for years," he said. "And so despite the ban, we can still get hold of them: whether they're being caught illegally, or accidentally, as by-catches.
"Organisations like Greenpeace come here and make a big scene. But there's no reason for them to stop us. I can't understand why they can tell us not to catch whales. If I had my way... "
Mr Gwak goes on to say exactly what he would like to do to environmental campaigners. None of it is fit to print.
'Suspicious catch'
Only a handful of countries, including Japan, have side-stepped the international whaling ban. Some parts of the South Korean government have said they want to follow Japan's lead and allow scientific whaling as a way to assess whether to resume it commercially.
At the moment, the only way to catch whales legally here is by accident - when they are caught in fishing nets.
But Greenpeace's oceans campaigner for East Asia, Jeonghee Han, says the high number of accidental catches are suspicious.
"In 2009, Korea and Japan accounted for over 80% of the [global] large whale by-catch," she said. "That's why we suspect that it's not purely by-catch; these two countries eat whales."
She said that part of the problem was the incentives on offer to fishermen, plus there was no effective monitoring system in place.
"First of all, when fishermen find whales in their net, the ownership goes to the fishermen, so this system is wrong. And the government [doesn't] even know how many whale restaurants exist, how much meat is distributed. There's no systematic management."
High price
At Jangsengpo's pier, coastguard boats bob against their rope lines. Coastguards will privately admit that some fishermen here still catch whales for money. The ban has raised the market price so much that whales have been nicknamed the "Sea Lottery". Policing it is difficult.
"It's not just the local residents," said Lee Min-oo, head of the Whale Culture Preservation Association.
"The government has been studying the number of whales in coastal waters for years, and found an increase in the number of minke whales and dolphins.
"These are just eyewitness reports, not proper whaling studies. But based on these reports, the government has taken a position to scientifically research the number of whales off the coast. And my understanding is that that decision still stands," he said.
Greenpeace disputes those figures, saying that other reports show a 5-7% decline in whales off the Korean coast in stocks already marked as protected by the International Whaling Commission.
Amid the controversy, many here are focusing on the town's history rather than its future: a new museum about Jangsengpo's whaling culture opened a few years ago, complete with an old whaling vessel and its harpoon.
It is a popular day trip for school children studying their history. But here in this south-eastern corner of Korea, few people are ready to consign it to the past.