Thousands gather at wake for 'Moonies' founder Sun Myung Moon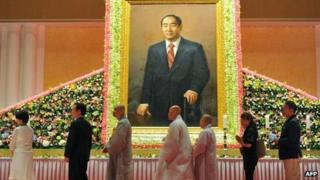 Thousands of mourners gathered at the headquarters of the Unification Church in South Korea as the 10-day wake for leader Sun Myung Moon began.
Buses ferrying men and women in black and white began arriving at the Church's compound in Gapyeong, 60km (37 miles) east of the capital Seoul, early in the morning.
Moon died at the age of 92 on Monday. His funeral will be on 15 September.
He set up the Church in the 1950s and established a business empire.
He claimed to have millions of members, many in the US. These members are sometimes referred to as Moonies, a term many view as derogatory.
At the complex, an altar with a large portrait of Moon has been erected, surrounded by wreaths, flowers and flags from several countries, including South Korea, Japan and the US.
More than 150,000 mourners from South Korea and abroad are expected to pay their respects, officials said. These include an estimated 32,000 people from Japan.
"I feel even sadder than when my own parents died... I'd never thought the true father would leave us so soon," Park Mal-rye, a follower for 20 years, told AFP news agency.
Some reports suggest a North Korean delegation may be sent to attend Moon's funeral, after leader Kim Jong-un sent a message of condolence, but this has not been confirmed.
'Mass weddings'
Moon, who was admitted to hospital two weeks ago with pneumonia, will be buried at Cheonseung Mountain, near his home.
Born in 1920 in what is now North Korea, he was a controversial figure.
He claimed that, while he was praying at the age of 15, Jesus appeared to him and asked him to set up God's kingdom on Earth.
He established the Church - formally known as the Family Federation for World Peace and Unification - in 1954, a year after the Korean War ended.
It was known for mass weddings, in which thousands of couples paired up by the Church got married in huge ceremonies.
Moon also built up a global business empire, setting up newspapers, arms factories, universities and food distributors.
He denied claims that he brainwashed members, broke up families and filled his own coffers, but had to spend 11 months in jail in the US - where he moved in the early 1970s - after being convicted of tax evasion in 1982.
He also forged ties with North Korea, meeting founder Kim Il-sung in 1991 and sending a delegation to pay respects after the death of Kim Jong-il.
He returned to South Korea in 2006, leaving his religious and business empire in the hands of his children. His youngest son, Hyung-jin Moon, became the Church's most senior leader in 2008.