Bo Xilai scandal: Ex-police chief Wang Lijun charged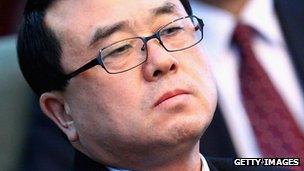 The ex-police chief at the centre of China's biggest political scandal for years has been charged with a number of offences, Chinese state media say.
Wang Lijun is charged with defection, abuse of power and bribe-taking.
He briefly fled to a US consulate in February, triggering a series of events that led to the downfall of the powerful politician Bo Xilai.
Bo Xilai's wife has since been given a suspended death sentence for the murder of British businessman Neil Heywood.
Mr Bo had been tipped for promotion to China's highest leadership this year.
The BBC's Martin Patience in Beijing says the charges against Mr Wang appear to be an attempt to bring the scandal to an end before China embarks on a change of leadership later this year.
Wang Lijun, 52, was the former police chief of the south-western Chinese city of Chongqing and had a reputation for being tough on organised crime.
He was once the subject of a TV drama called Iron-Blooded Police Spirits.
He began his career in law enforcement in the Inner Mongolia Region in 1984 and moved to Chongqing in 2008.
He had close ties with the former chief of Chongqing, Bo Xilai, but in early February the Chongqing city government said Mr Wang had been shifted to another job.
Four days later, he fled to the US consulate in nearby Chengdu, where many believe he sought asylum.
He spent the night there but was persuaded to leave a day later. He gave himself up to police and has been in detention since then.
According to the UK Foreign Office, Mr Wang made allegations about Mr Heywood's death while at the consulate.
Shortly afterwards, Bo Xilai was sacked as Chongqing's Communist party chief, and his wife Gu Kailai was accused and later convicted of murdering British businessman Neil Heywood.
The charges against Mr Wang have been brought by the authorities in Chengdu - the province that Mr Wang fled to in February, rather than in Chongqing, where he served as police chief.
According to Xinhua news agency, Wang Lijun is suspected of attempting to cover up Gu Kailai's involvement in the Neil Heywood murder.
He knew that Gu Kailai was a suspect, but "consciously neglected his duty and bent the law for personal gain", according to the indictment.
He is also accused of leaving his post without authorisation with the intention of defecting at the US Consulate General in Chengdu.
The authorities also suspect him of forging documents and of accepting huge sums of money in abuse of his position as vice mayor and police chief of Chongqing.
The People's Procuratorate of Chengdu say the evidence against him is "concrete and abundant", Xinhua reports.
Little has been heard of Wang Lijun since his arrest in February, despite the political and criminal fallout his visit to the US consulate in February generated.
Many say that without it, the investigation into Neil Heywood's death may never have been reopened, and murder charges may never have followed.
No date has been set for a trial, but analysts suggest it could be imminent, and that it could be over quickly.
Gu Kailai's murder trial took just one day.