North Korea criticises Chinese firm in rare move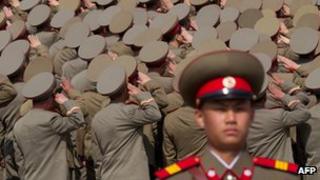 North Korea's state-run media has issued rare criticism of a Chinese mining company that accused it of being a "nightmare" to do business with.
Chinese firm Xiyang was working on an iron ore venture, but said it stopped after facing unreasonable demands.
Xiyang failed to honour investment promises and was to blame, KCNA news agency says.
It is unusual for the North to criticise anything involving China, its sole major ally, analysts say.
A North Korean spokesman issued a statement carried by the Korean Central News Agency (KCNA) saying that Xiyang "is chiefly to blame from the legal point of view".
"It [Xiyang] has carried out only 50% of its investment obligations though almost four years have past since the contract took effect," the spokesman said.
Xiyang said it invested more than $37m (£23.32m) on the project, but shelved it after North Korea asked for significant changes to the contract.
The company also said that North Korea violated its own investment laws, telling Reuters news agency that it had been "cheated".
"They just don't have the conditions for foreigners to invest. They say they welcome investment but they don't have the legal or social foundations," Wu Xisheng, vice-general manager, told Reuters.
The row comes amid signs that North Korea could be trying to revive its economy.
In a rare move, a second parliamentary session of the year is to be convened on 25 September, KCNA said on Wednesday, without providing further details.
These sessions usually include changes in government personnel or budget-related plans.
Chang Song-taek, uncle of North Korean leader Kim Jong-un who is seen as a key economy official, signed economic agreements with China on 14 August during his visit there.
This visit prompted speculation that the North is seeking to build investment in the country.