An unlikely love story in Nepal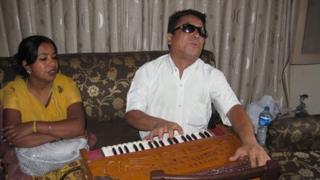 Jyotsna Bhaskar is celebrating 20 years of marriage to Ishwor Amatya, one of Nepal's most famous singers. But many are unaware of how the couple have struggled in the face of poverty, prejudice and disability. BBC Nepali's Suman Kharel reports.
Born blind, Ishwor Amatya struggled for years to make ends meet and get recognition for his work as a singer at small restaurants in Nepal's capital, Kathmandu.
Jyotsna Bhaskar, born to a family of Bengali migrants in the tourist city of Pokhara some 200km (124 miles) west of Kathmandu, was an amateur singer too.
She first encountered Ishwor when looking for work at the restaurant he was singing in.
The two are from very different backgrounds. While Jyotsna is a Bengali, Ishwor is from Nepal's Newa community, which constitutes about 5% of the population and is believed to have lived in the Kathmandu Valley area since pre-historic times.
But for Jyotsna, it was love at first sight. She became a great fan of Ishwor, and in less than a month conveyed through a band member that she had fallen in love and wanted to marry him.
'Source of inspiration'
At the beginning, Ishwor was a bit hesitant.
"He told me that he was physically handicapped and wouldn't be able to provide material comfort to me," Jyotsna told the BBC.
"I then told him that I was not looking for material comfort by marrying him. All I wanted was to be his companion."
Ishwor could only resist for a short time. The pair were married shortly afterwards.
"As a blind person, radio was my best friend when I was young," he says.
"I used to listen to songs day and night and was always inspired by singing.
"In the same way Jyotsna has been a great source of inspiration and support to me. She holds my hand and takes me all over the country, wherever I have to sing."
But marriage was not a decision to take lightly - by choosing someone outside their community, they were ostracised by their families.
Jyotsna's father was furious over the union. He asked her to return to her paternal home but she flatly refused, telling him that she had decided to marry Ishwor and was ready to spend the rest of her life with him - come what may.
Prior to her departure, her father told Jyotsna that "a light had gone out in his house".
Although they were short of cash, Jyotsna made sure Ishwor did not have to worry about his day-to-day affairs. She encouraged him to give all his time and energy to his passion - singing.
Positive attitude
It paid off as Ishwor is now is a well-known singer. He has recorded nearly 300 songs, many of them hits among his Nepali audience.
He sings many varieties of tunes - patriotic, classical, modern and, of course, romantic. Both teenagers and adults like his songs.
"He sings out of his heart. I would have tears in my eyes whenever he sang a song," recalls Jyotsna.
The couple's 17-year-old son is now studying at a leading private school in Kathmandu.
Life may be difficult for the average Nepali, but the couple do not have to worry about their day-to-day needs. The royalties Ishwor gets from his albums are sufficient for them to lead a comfortable life in Kathmandu.
Jyotsna's parents have now also accepted the union between her and Ishwor.
But she has one concern.
"Who will look after Ishwor if anything happens to me?" she asked.
Nepal does not have any social security system to look after its aged and disabled population.
"Every Nepali woman fasts on certain days for the long life of her husband. But I pray to God and say, once we get old, please take Ishwor before me," Jyotsna says with tears in her eyes.
Ishwor maintains a positive attitude towards life.
"God has given talent to every person. Singing may be a gift from Him to me since I can't see," he reflects.
Jyotsna has never regretted the choice she made.
"A woman looks for love and an understanding husband to share her life. I am fortunate to have both."