Has Thailand learned from last year's floods?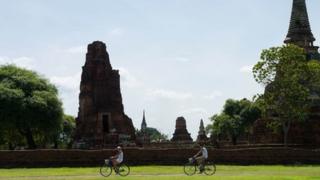 The monsoon rains have started falling heavily in Thailand again, and everyone is wondering: are we in for a repeat of last year?
The flooding that swamped central Thailand last year was the worst the country had experienced in half a century. It killed nearly 800 people, and, according to the World Bank, cost the country an estimated $45bn (£28bn).
The entire global supply chain for some consumer electronics and automobiles was disrupted, because factories operated by multinational companies near Ayutthaya were under water.
Fortunately, the forecast is more encouraging this year.
"I can guarantee that this year the flood will not be like last year," said Dr Seri Suphratid, the director of Rangsit University's Climate Change and Disaster Centre. "The level in the main reservoirs is much less. They can hold a lot more water."
But few people are in any doubt that Thailand will have to cope with similar levels of water again in the near future. Will it cope any better next time?
Flood wall
The government of Prime Minister Yingluck Shinawatra was caught unprepared by last year's floods, and criticised for its disorganised response.
Since then it has launched a series of flood-prevention initiatives. Canals are being dredged, and new floodwalls constructed, or strengthened where they already exist.
A new "super-committee" - the Water and Flood Resources Management Committee, chaired by Science and Technology Minister Plodprasop Suraswadi, has been set up to oversee all the various flood preparations.
The government has put long-term water management projects worth more than $9bn up for tender to Thai and multinational companies, with a promise to ensure the tender process will be fair and transparent.
It is also proposing the creation of new flood-retention zones - huge areas of low-lying land, upstream and around Bangkok, that can be flooded in years of excessive rain - to prevent the costly disruption to strategically important areas experienced last year.
The industrial estates around Ayutthaya are not waiting for the government. Their losses were so heavy last year they are taking drastic action now, not least to dissuade their main Japanese manufacturers from moving elsewhere.
At the Rojana estate, home to household names like Honda, Canon and Nikon, they are building a 77 km-long (47 mile-long) concrete wall encircling the estate and, they hope, sealing it off from any future flooding.
At the Honda assembly line, one of the company's largest, production was re-started in March, after a six-month halt, and workers are putting in as much overtime as they can to fill a backlog of many thousands of orders for new cars.
I asked Nobuyuki Shibaike, vice-president of Honda Thailand, whether the company was considering relocating from Ayutthaya, where it was one of the earliest and biggest investors.
"Frankly speaking, at this point we haven't thought about that. We've received a lot of warm support from the Thai people. Our sales continue to grow very well, and we are actually considering expanding our output," he said.
"However this factory was severely damaged by the floods, so, if we do decide to increase production, we would have to think about setting up another factory somewhere else."
Long-term concerns
The wall may protect Rojana, but what effect will it have elsewhere?
"It may protect them this year, next year, but in the long term, we cannot know what will happen," said Dr Seri Suphratid. "Every community will do the same thing - build a wall. So where will the water go? It will have to go somewhere, and that will make places downstream like Bangkok more vulnerable."
At the Thai Boat Museum, near the Chaophraya River in Ayutthaya, manager Kanok Khaomala is already worried about the likely impact of all these floodwalls on his low-lying neighbourhood.
He is having his old teak house raised by 80cm (31 inches) from its already elevated position on stilts.
Bigger questions surround the government's lavish flood prevention plans.
"They should continue with their short-term projects [floodwalls, dredging canals] - we have no worries about those," said Suwat Chaipricha, president of the Engineering Institute of Thailand, "but we are concerned about their long-term plans."
"The government cannot just look at a map and designate an area to let the floodwater flow, saying this is urgent, and that it has no time to do preliminary assessments. It must study the environmental impact of these plans, and talk to the people affected, otherwise they will never co-operate."
There is a real risk now of rivalry between different government departments over who gets to run the lucrative flood defence construction undermining the effectiveness of the plans.
Nearly 300 companies have bid to win contracts; the losers are likely to challenge the decision in the courts.
I saw some of the problems at first-hand, on a small scale, in the 15th century Phra Si Samphet temple in Ayutthaya, part of the Unesco World Heritage site in the city.
Last year the temple was under a metre of water for months, which caused some of the old brick walls and chedis to subside. But there was much less damage than Unesco had feared, and its experts say there is little repair work needed.
But already teams of unskilled workers are on the site, smashing out ancient bricks and replacing them with brand new ones, which, said one expert, would cause far more damage than the floods.
The rush by Thailand's authorities to be seen to be responding to last year's disaster could end up doing more harm than good.