Guilty plea over Christmas Island asylum boat tragedy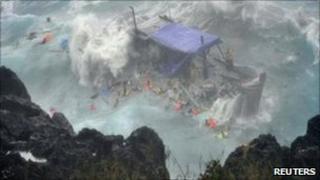 An Iranian-Australian man accused of organising an asylum boat that broke up off Christmas Island in 2010, killing about 50 people, has pleaded guilty to people-smuggling charges.
Ali Khorram Heydarkhani faces up to 20 years in jail after admitting four charges, local media report.
The 41-year-old was accused of organising four asylum-seeker boats between 2010 and 2011.
He was arrested in Indonesia and extradited to Australia in 2011.
Mr Heydarkhani had been set for a 12-week trial in Perth, but pleaded guilty to four out of 12 charges after negotiating with prosecutors.
He was accused of organising the boat that crashed into rocks near Christmas Island on 15 December 2010. Coastguards rescued 42 survivors but up to 50 people are believed to have drowned.
Thirty bodies were recovered from the sea and it is thought that about 20 more people remain unaccounted for.
The passengers on the flimsy wooden boat were believed to have been Iranian, Iraqi and Kurdish asylum seekers making their way to Australia via Indonesia.
Christmas Island - which lies about 2,600km (1,600 miles) from Australia but only 300km south of Indonesia - is often targeted because it is the closest piece of Australian territory to Indonesia.
In recent months the number of asylum seekers arriving by boat in Australia has increased. Last week 55 people were rescued when a boat sank off Indonesia - it is not clear how many people were on the boat.
In response the Australian government has voted to reintroduce offshore processing in Nauru and PNG, in a bid to deter people from making the dangerous journey by boat.
Mr Heydarkhani, who was born in Iran, became an Australian citizen in 2003. He will be sentenced in October.