India's Kumbh Mela TV rights sale plan put on hold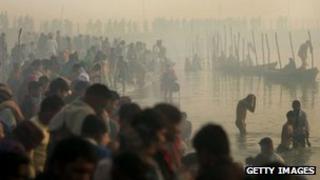 A controversial plan to sell media rights to the world's biggest religious festival in India has been put on hold, after opposition from Hindu leaders.
However, government officials say their proposal for the Kumbh Mela festival has not been formally dropped either.
The ancient Hindu gathering takes place in the northern state of Uttar Pradesh, attracting tens of millions of people.
The state government initially planned to offset the cost of the event by selling media access.
Although it is a religious festival, the state supports it by providing amenities, from security to sanitation.
'Highly offensive'
"The proposal to commercialise the Kumbh Mela has not been approved," Uttar Pradesh's Development Secretary Praveer Kumar told BBC Hindi's Ram Dutt Tripathi.
State government officials said there were currently examining objections from Hindu saints and officials in Allahabad - one of the four places where the festival takes place.
Allahabad's commissioner Davesh Chaturvedi said the local authorities had written to the state government to voice their concerns.
He said three key points must be considered before implementing the proposal, including a legal dispute whether the government owns the festival.
Hindu saints say the Kumbh Mela belongs to them, and no decision can be taken without prior consultations.
They said earlier that commercialising the festival would be highly offensive.
In May Uttar Pradesh chief secretary Javed Usmani sent a letter instructing the local administration to "generate revenue by auctioning advertising and telecast rights" to the event.
The Kumbh Mela has been held on the banks of the Ganges for thousands of years. It is at its largest once every 12 years when it attracts tens of millions of people.
In 2001, more than 40 million people gathered on the main bathing day at Allahabad, breaking a world record for the biggest human gathering.
At the 2013 event, the numbers are expected to be even higher.