Burma's student leader Moe Thee Zun returns home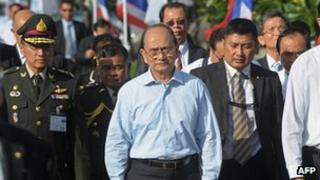 A prominent Burmese student leader, who was sentenced to death in his absence, has returned to Burma - the latest in a series of leading exiles to do so.
Moe Thee Zun was cheered by hundreds of supporters at Rangoon airport.
He headed student protests that were crushed by the military in 1988.
Several dissident leaders have returned recently, after Burma removed 2,082 people from its blacklist. The move is the latest reformist step taken by the military-backed government.
During nearly five decades of military rule, thousands of people - foreigners and Burmese - were blacklisted by the authorities.
They are thought to include government critics, foreign journalists and public sector workers who were forced to go abroad.
'Benefit of the doubt'
Moe Thee Zun and some of his supporters fled Rangoon in 1988. They went to the remote border regions and fought alongside ethnic rebels against the junta.
The student leader later went into exile in the US.
Moe Thee Zun said he decided to return to Burma to discuss national reconciliation.
He said he hoped to hold talks with the government of President Thein Sein in the coming days.
Moe Thee Zun's last encounter with Thein Sein was in New York in 2009. The student leader threw his shoes at the cars carrying the then prime minister, who was visiting the UN.
He also argued that Thein Sein could not represent the people of Burma.
But former sceptics are increasingly prepared to give the president the benefit of the doubt as he distances himself from the repressive policies of the past, the BBC's Charles Scanlon says.