'Car bomb' explodes in Peshawar market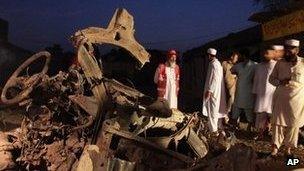 At least 11 people have died after a car bomb ripped through a busy market in the north-western Pakistani city of Peshawar, officials have said.
At least 16 people were injured in the explosion near a mosque in Mattani, a southern suburb of the city.
One report said a vehicle had exploded as it was being repaired at a mechanic's workshop.
No-one claimed responsibility for the attack but many recent incidents in the area have been blamed on the Taliban.
A child was reported to be among the dead, according to a shopkeeper and eyewitness who spoke to Reuters.
Five of the injured were said to be in a critical condition in hospital, Reuters reports.
"We are investigating whether the car was brought to [the] workshop for mechanical repairs or to plant a bomb, or whether the bomb had already been planted and it went off during repair," Mian Iftikhar Hussain, the home minister for Khyber Pakhtunkhwa province told Agence France Presse.
At least 10 shops were also damaged by the strength of the blast.