Maldives report rejects Nasheed coup claims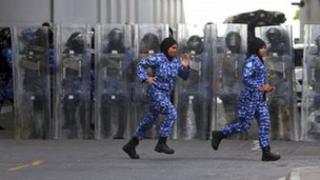 An official inquiry in the Maldives has dismissed claims by former President Mohamed Nasheed that he was forced from power in a coup six months ago.
The report concluded that Mr Nasheed had stepped down voluntarily.
His supporters held rallies in the capital, Male, on Wednesday ahead of the release of the report into the dramatic 7 February transfer of power.
BBC correspondents say the inquiry's conclusion is a severe blow to the reformist former president.
Earlier, Mr Nasheed's sole nominee quit the five-member panel, saying the results were biased and incomplete. Ahmed "Gahaa" Saeed said the report lacked key testimonies and photo, audio and video evidence.
In its 62-page report, the Commonwealth-backed Commission of National Inquiry described the transfer of power as "legal and constitutional".
"The resignation of President Nasheed was voluntary and of his own free will. It was not caused by any illegal coercion or intimidation," it said, after interviewing nearly 300 witnesses.
The inquiry added, however, that there were serious problems with the rule of law in the atoll nation which urgently needed to be addressed. These included acts of brutality in February by police whose behaviour was frequently "out of control", it said.
A spokesman for new President Mohamed Waheed Hassan Manik told the BBC he was "delighted" at the inquiry's conclusions and now wanted to move forward towards elections due by next July as he felt his legitimacy was no longer in question.
'Topple the government'
Mr Nasheed, the country's first democratic president, claims he was forced to quit under duress after soldiers and police mutinied in the capital.
But his successor, who had been serving as his vice-president, insists that Mr Nasheed left of his own accord after opposition-led protests.
On Wednesday evening, several hundred people demonstrated in Male in support of the former president after he called on them to protest, eyewitnesses said.
Mr Nasheed told his supporters it would be legitimate for the people "to topple the government from the street" if the official inquiry ruled there had been no coup.
Police have said they will not allow any unrest and have been carrying out searches on people on the streets and those arriving on boats to Male, according to local media.
The situation not just in Male but in other parts of the Maldives, too, was reported to be tense.
Mr Nasheed, a reformist who spent years in jail or under house arrest, came to power in 2008 after beating long-time President Maumoon Abdul Gayoom in the country's first ever polls.