Surfer in Western Australia survives shark attack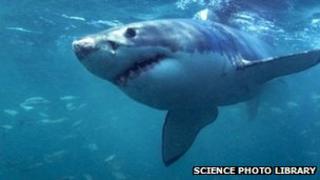 A surfer in Western Australia is in hospital after being attacked by a shark on Tuesday - the sixth such incident in the state this year.
The man, in his 30s, suffered severe injuries to his abdomen and right arm at the remote Red Bluff surf spot about 1,000km (600 miles) from Perth.
Surfers dragged him from the water, which a witness said was full of blood
The man, described as "tough as nails", was driven two hours to the nearest hospital.
He was then flown to a hospital in Perth on Tuesday night and is reportedly in a stable condition.
The spate of attacks in Western Australia - five of which have been fatal - has prompted calls for a shark cull, but the authorities have ruled out that option following protests from environmental groups.
Most of the attacks have involved great white sharks, but officials from the Department of Fisheries were unable to confirm what kind of shark had attacked the man.
"A number of species of shark attack people. It's a fairly prevalent tiger shark area," the department's Tony Cappelluti was quoted by ABC News as saying.
The beach - a remote stretch of sand north of Carnarvon - has been closed since the attack.