Typhoon Bolaven: North Korea reports storm damage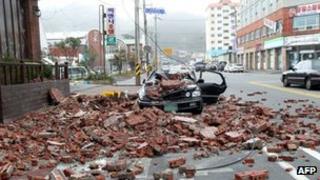 Typhoon Bolaven has caused damage to western parts of North Korea, already hit hard by flooding in recent weeks.
Hundreds of trees were felled and power supply cut as the storm struck, state media said.
The typhoon left a trail of damage in South Korea, killing 15 people and leaving almost two million temporarily without power.
A search is continuing off Jeju island for 10 Chinese fishermen still missing in the wake of the storm.
Two boats capsized early on Tuesday as the typhoon hit the island, which is south of the Korean peninsula.
South Korean coast guards managed to rescue 12 people and another six swam ashore. But five were killed and the whereabouts of the remaining 10 crew members is unknown.
Across the country 10 South Koreans were killed and another two injured, Yonhap news agency reported.
'Seriously affected'
Typhoon Bolaven travelled up the western side of the Korean peninsula after causing transport chaos and limited damage on the Japanese island of Okinawa.
In North Korea, damage to crops and power lines was reported round the city of Haeju.
The storm also "carried away a 200-square-meter (2,150 sq ft) roof of a facility of Ryesonggang Power Station No 6," state-run KCNA news agency said.
"Many hectares of farmland were seriously affected by the typhoon in the (South Hwanghae) province, making it hard to expect harvest," it added.
North Korea was hit by flooding in late July and early August, leaving dozens of people dead.
The communist country cannot feed its population and relies on food aid, making any storm damage to crops a severe blow.
"Damages from the typhoon are likely to get more serious," the KCNA report said.