Pakistan blasphemy case Christian girl 'is 14'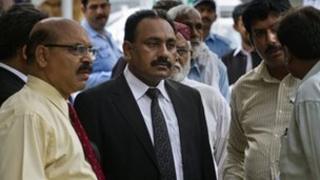 A Christian girl jailed on blasphemy charges in Pakistan appears to be a minor aged about 14, according to a medical report obtained by the BBC.
The report by a government-appointed medical board also suggests the girl, Rimsha's mental age is less than that.
She is being held in a high security prison, amid growing international pressure for her to be freed.
Rimsha's lawyer, Tahir Naveed Chaudhry, has said he will apply for bail at a court hearing on Thursday.
Mr Chaudhry has said he is hopeful his client will be released and has applied to have the case heard under juvenile law.
The report on Rimsha was drawn up by a medical board comprising seven doctors.
"On examination her age seems to be approximately 14 years. She appears un-educated and her mental age appears below her chronological age," the report says.
Since her arrest almost two weeks ago, there have been conflicting reports about Rimsha's age and mental capacity. Some reports say she has Down's Syndrome, others that she is as young as 11.
She was detained after an angry mob accused her of desecrating pages of the Koran in a Christian area of the capital, Islamabad.
It is not clear whether she burned pages of the Muslim holy book or was found to be carrying them in her bag. Supporters say she has been wrongly accused.
'Jungle law'
On Tuesday, an umbrella group of Muslim clerics and scholars said her case should be a test case for Pakistan, and no injustice should be done.
"The law of the jungle is taking over now and anybody can be accused of anything," said Allama Tahir Ashrafi, chairman of the All Pakistan Ulema Council.
"If she has been falsely accused, her accuser should be arrested and punished."
Rimsha's parents have been taken into protective custody following threats, and many other Christian families have fled the neighbourhood.
There are fears that even if she is released, Rimsha's family will not be safe in Pakistan. Others accused of blasphemy have been killed by mobs in the recent past. Pakistan's strict blasphemy laws are often used to settle personal vendettas, correspondents say.
Last year two leading politicians were assassinated after speaking out against the legislation.