Pakistani court extends corruption case deadline for PM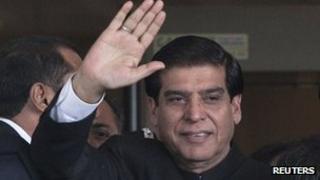 Pakistan's Supreme Court has given Prime Minister Raja Pervez Ashraf three more weeks to resolve a deadlock over the re-opening of corruption cases against President Asif Ali Zardari.
Appearing in court, Mr Ashraf sought time to resolve the stand-off between the judiciary and the government.
Former PM Yousuf Raza Gilani was barred from holding office in June after he refused to re-open the cases.
The charges date back to the 1990s when the late Benazir Bhutto was in power.
Mr Ashraf was accused of ignoring a court order that had asked his government to write a letter to the Swiss authorities, asking them to re-open investigations against President Zardari in a case of money laundering.
But the president insists that the charge - one of several cases against the civilian government, led by Pakistan People's Party (PPP) - is politically motivated.
Mr Ashraf's immediate predecessor, Yousuf Raza Gilani, was convicted in a contempt case when he refused to write the letter, saying the president enjoyed legal and diplomatic immunity.
The prime minister was flanked by his partymen and political allies as he entered the court on Monday.
Arguing the case himself, Mr Ashraf said that he "sincerely" wanted to resolve the deadlock.
"I want to resolve this case in such a way that upholds the dignity of the court and also addresses concerns of the government," he said.
The five-member bench wanted immediate assurances, saying the issue of the letter had dragged on for over two years, but granted time as requested by the prime minister.
Justice Asif Khosa said the prime minister did not have to write the letter himself and could nominate someone else to do it.
Mr Ashraf agreed to be present in the court for the next hearing on 18 September.
The BBC's Ilyas Khan in Islamabad says it will be interesting to see if he can find a way out of this crisis in three weeks' time.
'Positive commitment'
Analysts say the longstanding tussle between the judiciary and the government has caused a deadlock between the state institutions and divided the nation.
But Mr Ashraf said that he was determined to bring an end to the turmoil.
"I will make all out efforts to bring an end to uncertainty that prevailed in the country," he said.
"It is my firm belief that it is not in Pakistan's interest to linger on this issue. I am ready to give a positive commitment to this court that I will resolve this issue."
Thousands of corruption cases, including those against Mr Zardari, were withdrawn in 2007 by an amnesty law passed under the former military ruler, Pervez Musharraf.
But in 2009, the Supreme Court ruled that the agreement was illegal, and that the case against Mr Zardari should be re-opened.