Typhoon Bolaven heads to S Korea after lashing Okinawa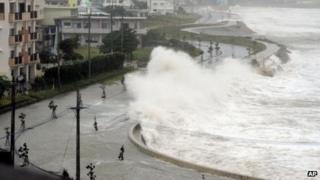 A powerful typhoon is heading towards South Korea after lashing the Japanese island of Okinawa, causing power cuts and paralysing transport.
Typhoon Bolaven was 300km (186 miles) north of Naha, Okinawa at 11:00 am local time (02:00 GMT), Japanese media reported.
In Seoul, President Lee Myung-bak has called for thorough preparations.
Classes have been cancelled, evacuation orders issued, and a main port and ferry routes are closed, reports said.
Meteorologists in South Korea are expecting the typhoon to make landfall at the southern Jeju Island in the early hours on Tuesday, moving northward towards Seoul on Tuesday afternoon, Yonhap news agency reported.
A typhoon warning will be issued in most parts of the country on Monday night, officials said.
Flights may resume
About 75,000 households in Okinawa and the southern Japanese city of Kagoshima have been left without power after the typhoon struck on Sunday, Japanese media reported.
On Monday morning, flights to and from Naha airport remained cancelled.
"But if the weather permits, airlines may be able to resume flights in the afternoon," an airport official was reported as saying by AFP news agency.
Ships and ferries linking the island chain in the area were also cancelled.
At least four people were injured but reported wind speeds on Okinawa and nearby Amami were lower than forecast.
Japan's meteorological agency had estimated wind speeds near the storm's centre at around 180km/h (112 mph), with extremely strong gusts reaching 252 km/h.
But NHK reported early Monday morning that the strongest gusts measured on the islands - on Amami, north of Okinawa - reached just 140km/h, according to the AP news agency.
"The winds weren't as strong as expected. We're glad there's no major damage so far," crisis management official Yoshimitsu Matsusaki was quoted as saying by AP.
British tourist Paul Graham, whose flight out of Okinawa had been cancelled, said the streets in Naha were deserted on Sunday.
"It is quite stormy at the moment, very windy and very wet. There is a canal nearby here, and there is concern about its levels in this weather," he told the BBC.
Typhoon Bolaven comes just after Typhoon Temblin, which has caused widespread damage in Taiwan.
The latest typhoon is the 15th destructive storm of the season in East Asia.