Oil slick threatens popular Sri Lanka tourist resorts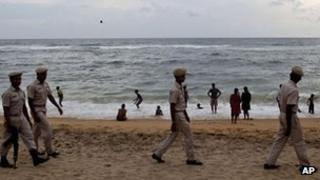 Armed forces in Sri Lanka are preparing to clean beaches in case an oil slick from a sunken cargo ship contaminates its western coast, officials said.
The Cypriot-flagged Thermopylae Sierra sank on Thursday in bad weather, releasing an oil slick about 10km (six miles) long.
Some of the oil has already washed up at the resort town of Negombo and is threatening local fisheries.
The vessel had been moored off the west coast for three years over a cargo row.
The Disaster Management Centre said a long stretch of the west coast centred on the capital was at risk.
This includes Mount Lavinia, a popular tourist resort south of the capital, Colombo, and Negombo, the first beach resort opened for tourism in the early 1970s.
Rusting ship
"Much of the furnace oil in the ship had been pumped out, but we were told about 70 tonnes of fuel remained in its tanks and that is causing a slick," the centre's director, Sarath Kumara, told the AFP news agency.
He added that the slick was about 20km off the western coast but could get washed ashore if the heavy monsoon weather intensifies.
"We have arranged small units of volunteers to clean up a coastal stretch of over 50km," Mr Kumara said. "We have not experienced anything like this before."
A thin strip of oil about 200m (655ft) long has already hit Negombo's shoreline, the BBC's Charles Haviland in Colombo reports.
The rusting vessel was impounded on Sri Lankan court orders after a dispute over its cargo of steel piping.
A recent court order prevented the ship from being towed to the east coast.