Nguyen Duc Kien's arrest in Vietnam prompts ACB fears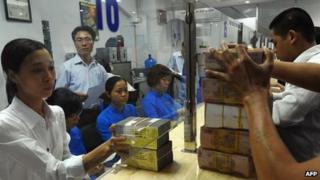 Depositors in Vietnam have withdrawn hundreds of millions of dollars from one of the country's largest banks after the arrest of one of its founders.
Nguyen Duc Kien, one of Vietnam's richest businessmen, was arrested in Hanoi on Monday on suspicion of "economic violations".
Shares in Asia Commercial Bank slid as a result, causing depositors to panic.
The State Bank has pumped millions into the bank to reassure depositors.
Large crowds of customers have gathered outside branches of ACB in Ho Chi Minh City.
The government has said that Mr Kien, who owns just under a 5% stake in ACB, is not involved in the day-to-day running of the bank.
Mr Kien, whose family is one of the richest in Vietnam, co-founded ACB in the 1990s. He is seen as a politically well-connected tycoon.
CEO concerns
The allegations against him concern other investment companies that he owns, but there is also concern about the whereabouts of ACB's chief executive officer Ly Xuan Hai.
Some reports say it is widely believed that Mr Hai is also under arrest or may have resigned.
Mr Hai's deputy, Do Minh Toan, has been quoted as telling state media that depositors withdrew about five trillion dong ($240m) from ACB on Wednesday.
The bank run has also put pressure on the dong and has led to an increase in the price of gold - traditionally seen as a safe-haven investment at times of economic instability.
Since Wednesday the State Bank of Vietnam has injected 17 trillion dong into the commercial banking sector in an effort to mollify depositors and the market.
The BBC's Charles Scanlon says Mr Kien's sudden arrest has prompted speculation about a power struggle in communist-run Vietnam, and a suspected plot to curb the power of Prime Minister Nguyen Tan Dung, to whom Mr Kien has close ties.
ACB faced a run on its deposits in 2003 after rumours, which were later proved false, spread about the arrest of one of its executives at the time.
Mr Kien is also a shareholder in other commercial banks, including Kien Long Commercial Joint Stock Bank and the Vietnam Export-Import Commercial Joint Stock Bank
He has also invested heavily in Vietnam's professional football league.