Australia to increase refugee intake to 20,000 annually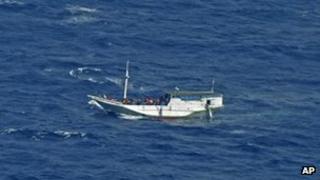 Australia says it will increase its intake of refugees to 20,000 a year, from the current 13,750, in line with recommendations by an expert panel.
PM Julia Gillard said the jump of 45% was the biggest increase in 30 years.
Lawmakers also recently approved the re-opening of offshore processing camps for asylum seekers in Nauru and PNG.
The moves are aimed at deterring asylum seekers from making the dangerous journey to Australia by boat, amid an increasing number of arrivals.
The increase in Australia's humanitarian intake and the re-establishment of offshore centres were among 22 proposals put forward by an independent panel on asylum earlier this month.
The panel's review was commissioned by Ms Gillard amid government deadlock on the issue.
The three-strong panel, led by former defence chief Angus Houston, said its recommendations were aimed at encouraging people to seek asylum through official channels.
Ms Gillard said the move to increase refugee numbers sent a clear signal.
''Message number one, if you get on a boat, you are at risk of being transferred to Nauru or PNG. But message number two, if you stay where you are then there are more resettlement places available in Australia," she said.
The increase was "targeted to those in most need: those vulnerable people offshore, not those getting on boats'', she said.
''People who arrive by boat will get no advantage. It's not worth the risk to life and it's not worth the money, because there is absolutely no benefit to getting on that people-smuggler's boat.''
'Dangerous boat journeys'
Asylum seekers often target Christmas Island, off Australia's northwest coast, to get to the country. They make the dangerous journey in boats that are usually overloaded and poorly maintained.
In June, a boat with 200 asylum seekers sank near the island - 17 bodies were found and another 70 were feared dead after a three-day search. That was the second boat to sink in a week, reigniting the debate on asylum in parliament.
As an indication of the government's commitment to ''safe alternatives to dangerous boat journeys'', Australia will proceed to immediately resettle an additional 400 refugees from Indonesia, Ms Gillard added.
The Australian government will also consult the UNHCR over the allocation of the remaining resettlement places.
More Afghans, as well as Syrians and Iraqis who had fled to refugee camps in Jordan, Turkey, and Lebanon, would be accepted as part of the increased intake, said Immigration Minister Chris Bowen.
"Of course Sri Lankan refugees will continue to figure in our programme, as will Burmese in Malaysia, Thailand and India,'' he told reporters.
Ms Gillard has said she hopes that the offshore processing centres could be re-opened within a month.
The government has committed A$10m ($10.5m, £6.6m) for the centres, Australian media reports said.
Nauru will be able to take in 500 asylum seekers by the end September, said Mr Bowen. Negotiations for the facility on PNG began this week, reports said.