Sri Lanka students and academics rally over education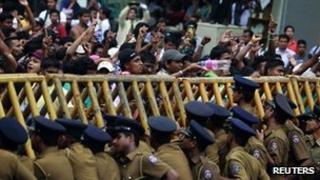 About 2,000 teachers and students held a mass rally in the Sri Lankan capital, Colombo, a day after the government shut down most universities.
Academics have been on strike since the beginning of July, demanding more money for education and less of what they see as government interference.
Strikers oppose plans for private-sector involvement in universities, which have always had state funding.
But the authorities have accused teachers of playing political games.
They have said that academics, who are also demanding a salary increase, are trying to topple the government.
"Save state education" was the slogan towering above the podium in a park where speakers using fiery rhetoric pronounced higher education to be in danger, reports the BBC's Charles Haviland in Colombo.
Organisers of the colourful rally, staged by the main union of academics, wore orange and maroon T-shirts with the words "Six Percent", which is the proportion of gross domestic product academics say should be spent on education overall.
They say this is a benchmark figure set by the UN, but that the figure in Sri Lanka keeps falling and it is now below 2%.
And Sri Lanka's educational crisis is spreading, our correspondent warns.
Schoolteachers are now threatening not to mark A-level exam papers as they say they need academics' input to do this.