Afghan Eid street concert in Herat challenges clerics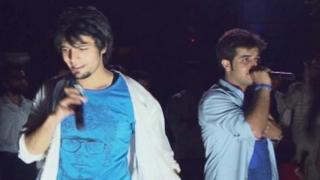 On the first working day after the Muslim festival of Eid, Afghan social media is still talking about the daring stand against a conservative cleric made by a pop group during the religious celebration.
For many young Afghans in the western city of Herat, this Eid festival did not go as planned.
A substantial number had wanted to see a concert by the popular pop singer Shafiq Murid, known for his patriotic songs.
When local cleric Mujib Rahman banned the concert, it prompted public anger about the growing power of religious clerics in the city. "No to Extremism!" read placards raised by a dozen residents of Herat on Tuesday.
But the protest came alive on the streets when a newly-formed pop group called Blue Band held a concert for passers-by close to the Herat Stadium where Murid had been due to perform.
Singing for freedom
"Dear residents of Herat, the Blue Band will sing about peace and freedom in a protest against ignorance," wrote Arash Barez, lead singer of the band on his Facebook page. "We want peace, peace and only peace."
An Afghan traditional band also came out to join the protesters and the Blue Band. They played the flute and drum, jamming along with the pop musicians - a rare moment where Afghanistan's traditional and more modern worlds came together.
Speaking to the BBC, Mr Barez said they had decided to hold a performance to show people that Herat still wanted live music and people supported it.
"After the cancellation of Murid's concert, we performed for two hours and sang patriotic songs", he said. "We shouted for peace and freedom."
But the edict by the cleric angered many Afghans on social media sites. For them, this was not a protest about pop music but about the growing clout of conservative forces.
"This is not about one concert, it is about the spread of extremism in Herat," one young man from Herat wrote on his Facebook page. "We must put a stop to it," he added.
"To Mujiburrahman, the Mullah who cancelled Shafiq Murid's concert in Herat: Please stop suicide attacks and killing civilians if you can - that's more important," wrote a Kabul journalist on his Facebook page.
The Afghan scholar who banned the concert said it was to avert the spread of "immorality" in the city. He has not commented on the controversy.
In a recorded message to his fans, the pop star at the centre of the controversy, Shafiq Murid, said his concert was called A Smile, and he wanted to bring cheer and smiles to the tired faces of his people.
The incident in Herat has been taken seriously not only by Afghan civil society groups but also by many young Afghans who have studied Islam abroad.
"As a Muslim who has spent much of his life studying Islamic studies, I am very ashamed," wrote one Afghan Islamic scholar on his Facebook page.
"I am ashamed that the people who represent my religion in Afghanistan are a bunch of illiterate and narrow-minded mullahs who don't know the meaning of art but also don't know the value of knowledge."
Security fears
But some supported the ban: "Herat is not Dubai," wrote one person.
"Mullah Mujib Rahman is a cleric. Some 4,000 women prayed behind him on the first day of Eid," said another supporter. "Those who criticise him are Westernised and there is no room for you guys."
Some Afghan officials have cited insecurity as one of the main reasons for the cancellation of the concert. Herat has witnessed a series of attacks over the last few weeks.
In the most recent, at least four people were killed and 12 others were wounded in a bomb blast in a crowded market in the city.
Speaking to the BBC, Sayed Makhdom Rahin, the Afghan minister for culture and information, said: "As far as I know, our branch in Herat has said that the main reasons for the cancellation has been to avoid probable attacks and casualties.
"I really hope that is the only reason why the concert didn't take place. We should take precautions during Eid days."
But for young Afghans, such intervention is a cause for great concern, and many are asking questions about the power of religious leaders and the impact they have on the rule of law.