North Korea 'places dome' on light water reactor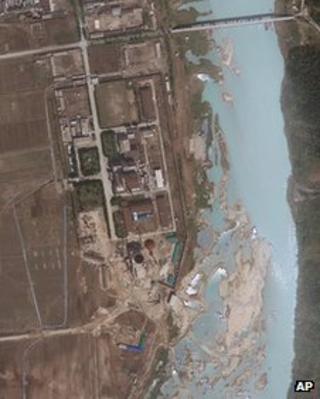 North Korea has completed a ''major step'' by placing a dome on a light water reactor that could support its nuclear programme, an analyst says.
Satellite images from 6 August show the dome atop the reactor building at the Yongbyon site, said Allison Puccioni of Jane's Defence Weekly.
But it may take several more years before the site is fully operational.
Meanwhile a spokesman for the Non-Aligned Movement has denied reports that Kim Jong-un may visit Iran.
A report had quoted Mohammad Reza Forqani as saying that Mr Kim would make his first state visit since taking power to Tehran at the weekend. "I have not said such things and the reports (on his visit) are blatant lies," Iran's IRNA quoted him as saying.
Work resumed
Pyongyang first revealed that it was building a light water reactor in 2010 when it showed US scientists a uranium enrichment plant reportedly producing fuel for the new facility. It says the reactor is to meet energy needs.
But experts said the reactor could be used to produce plutonium and the plant could be converted to produce highly enriched uranium for weapons.
The dome had been on the ground next to the building for about a year, Ms Puccioni said. ''The emplacement of the dome is a significant development,'' she was quoted as saying.
In May, a leading US institute said work had resumed at the site after months of inactivity.