Japan harnesses fashion power of gals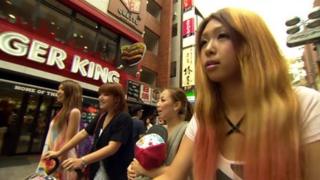 In every country, there are sub-cultures who define themselves through fashion. The West has goths, hippies and grunge, for example. Japan has gals.
They are young girls who look, act and speak very differently from the traditional image of Japanese women.
Since they emerged as a group the mid-90s, their looks have evolved. But a few elements have remained constant - short skirts, massive heels and big, big eyes.
This type of rebellion has been frowned on in the past. But now these gals are being courted - for their spending power, their adventurous mindset and even as a cultural export.
Gals, named for the Japanese pronunciation of girl - gyaru, were the product of the boom years - urban teens with a disposable income who were keen to stand out.
Their fashion went through various stages - big socks, foot-high wedge heels, silver hair, deep bronze skin.
The wildest of all was a group called Yamamba, who wore large circles of unnaturally white eyeshadow, giving a reverse panda-eye effect.
'Half or full?'
Some women espoused their gal-ness more than others. Mihoko Nishii, of Japan's largest advertising group Dentsu, said studies show that about 12% of women aged between 18 and 34 are real gals.
"But more than half of the women we surveyed are what we call 'pa gal' (half gal), who share similar perspectives," she said.
"They may not look like gals but they also want to make their eyes look bigger and they like bling products," she explained.
The ability of gals to spark a new trend is what many companies are keen to utilise.
Take coloured contact lenses and fake eyelashes as examples. Initially gals' secret weapons, they have since been adopted by many ordinary women.
The popularity of non-prescription coloured contacts even became a national issue in 2008, when hundreds of cases of eye damage were reported to opticians, resulting in new government regulations.
So gals, once viewed with suspicion as rule-breakers, are now in high demand for marketing purposes.
Gal-mama are young mothers who refuse to shed their gal-ness. They are the latest trend in this evolving culture and have made the fashion industry realise that gal fashion may not be just a youth fad.
"We are using gal-mama, instead of models, to promote our products because customers can relate to them more," said Eri Kato of Five Gate, which sells coloured contact lenses.
Companies that make maternity and children's goods are also keen to get their opinions on new products.
"They really think outside the box," said Ayako Yamashita, editor of I Love Mama magazine, which features gal-mama.
"For example, they would suggest black toys with some pink bling for babies when these products are traditionally in vivid or pastel colours," she said with a laugh.
"But they sell very well even among ordinary mothers, so companies see them as innovators."
Changing tastes
Gals' spending power has been in the spotlight before. Their desire to keep up with the latest fad meant that they spent a lot of money on clothes and shoes.
"Their fashions changed very fast, and gals followed each trend religiously," said Nobuko Yabe of gals' magazine Popteen.
Their favourite shopping centre, Shibuya's 109 store, saw its sales double between 1995 and 2008, as other department stores struggled with falling sales.
But gals could not shield 109 from the impact of the global financial crisis. As hard times hit, they started to shop at slightly cheaper global brands, such as H&M and Zara.
And the economic crunch has curtailed their fashion ambitions to an extent.
"We are seeing a slowdown in gals' evolution and today we see fewer obvious gals," says Ms Yabe.
But they remain an important sub-culture - and one that Japan's government wants to exploit.
The cabinet has approved plans to recreate fashionable districts of Tokyo in foreign cities and it hopes to export four trillion yen ($51bn; £32bn) worth of "Cool Japan" fashion by 2020.
So the one-time rebels have found their place in society.
"These gal-mama may look rebellious," said Ms Yamashita of I Love Mama magazine.
"But the advice that they gave me when I became a mother myself really showed that they contribute to society no matter how they dress."