Pakistan blasphemy case: A human rights perspective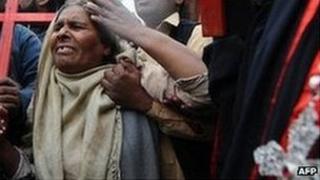 Pakistan's president has ordered a report into the arrest of a girl, believed to be aged 11 and with mental disabilities, who is accused of desecrating pages of the Koran.
Police say the girl was arrested last week in a Christian area of the capital, Islamabad, after a furious crowd demanded she be punished.
It is thought that the girl has Down's syndrome. Her parents have been taken into protective custody following threats.
Human rights activist, Xavier P William shares his thoughts on the story after meeting the girl and her family.
Xavier P William, Rawalpindi, Pakistan
I met the family and the locals. The situation is very tense.
The police have advised Pakistan's minister for national harmony, Paul Bhatti not to send back many of the Christian residents that fled the neighbourhood after the unrest erupted.
I met the girl at the police station when she was arrested and she is suffering from trauma.
Despite Eid, the situation remains tense. We have demanded a first information report (FIR) be written against the cleric who demanded that the police handover the girl so that she can be burnt alive.
An FIR is a written document prepared by police when they receive information about the commission of an offence. The girl is suffering from Down's syndrome, she was unable to speak and answer the questions asked about the incident.
Her medical report confirms that she in mentally challenged and was not aware of her actions.
Although the police said that she had admitted the incident, she is a child, she didn't do anything intentionally - her actions must be treated as such.
The crowd wanted to burn her alive, this is a condemnable act and a clear violation of human rights.
She is an innocent child - she doesn't even know what she did. She is in a state of shock. Her bail is being filed this week and she will hopefully be released.
Extra-judicial killings have been a common practice in the central Punjab. A few weeks ago a mentally challenged person was accused of blasphemy and was burnt alive outside the police station in Bahawalpur.
Such a mindset must be condemned. Many people have been falsely accused like this, they have mental problems yet they are in jail awaiting trial.
We are very hopeful that this girl will be released this week but if she is, her life will be in danger as the locals are already threatening the family.
It is about time that the government takes concrete steps to stop the misuse of the blasphemy laws.
Xavier P William is the president of Life for All and country director of Masihi Foundation Pakistan.