South Korea's Lee says history 'harming Japan ties'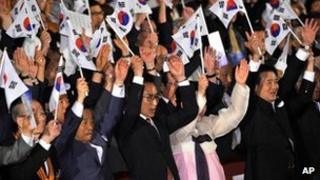 South Korea's President Lee Myung-bak says ties with Japan are being hampered by its stance on historical issues.
Mr Lee made the comments in an annual speech marking the end of Japan's colonial rule in South Korea.
Ties have been tense in recent days following a visit by Mr Lee to islands that are also claimed by Japan, leading Tokyo to recall its Seoul envoy.
In Japan, meanwhile, two senior ministers have visited a controversial war shrine.
A group of South Koreans, meanwhile, have finished a relay swim to the disputed islands - known as Dokdo in South Korea and as Takeshima in Japan.
Yonhap news agency said they arrived there early on Wednesday morning.
'Better tomorrow'
South Korea is marking the 67th anniversary of the end of colonial rule by Japan from 1910 to 1945.
"Japan is a close neighbour, a friend that shares basic values and an important partner that we should work with to open the future,'' Mr Lee was reported as saying by Yonhap news agency.
''However, we have to point out that chain links tangled in the history of Korea-Japan relations are hampering the common march toward a better tomorrow in the Northeast Asian region, as well as bilateral ties.''
One of the key issues was Japan's treatment of Korean ''comfort women'' - used as sex slaves for the military during WWII, Mr Lee said.
South Korea says Japan has failed to offer either an adequate apology or adequate compensation. Japan says the matter was settled in bilateral agreements with South Korea in the 1960s.
Mr Lee's speech is being carefully watched, says the BBC's Lucy Williamson in Seoul, as relations between America's key Asian allies have nose-dived over the past week.
Meanwhile Japanese politicians Jin Matsubara and Yuichiro Hata paid what they said were private visits to the Yasukuni Shrine to mark the end of WW II, despite Prime Minister Yoshihiko Noda urging members of his cabinet not to do so.
The shrine is dedicated to Japan's war dead, including war criminals, and is viewed by many of the country's neighbours as a reminder of Japan's military past.
Many analysts say the diplomatic tensions are being fuelled by domestic politics in both countries.
Japan is locked in various territorial disputes with other nations, and South Korea is due to hold presidential elections in December, says our correspondent.
The issue over the disputed islands has been a long-standing thorn in relations, flaring up sporadically in recent years.
Both South Korea and Japan say they have a historical claim to the islands, which are roughly equidistant from the two countries. They are small but lie in fishing grounds which could also contain large gas deposits.
South Korea has stationed a small coastguard detachment on the islands since 1954. Mr Lee was the first South Korean president to visit them.